Golovkin Talks Nunez, Pavlik, Sturm, Universum, More
Undefeated middleweight contender Gennady Golovkin (18-0, 15KOs), who faces Milton Nunez (21-1-1, 19KOs) this coming Saturday in Panama for the interim-WBA middleweight title, explains his relations with Universum and his attitude to the future fight.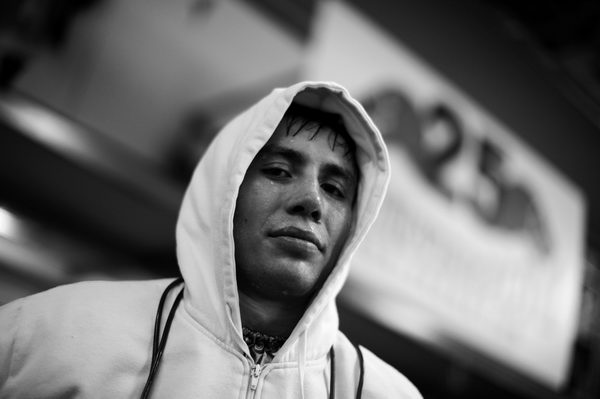 Gennady Golovkin
Have you left Universum completely as of yet? If so, did you feel like they were hot and cold when it came to your career?
- Yes, I have terminated my contract with Universum in January 2010. This decision is definitive and irrevocable. The reason for this decision is that I've always been placed behind Felix Sturm and Sebastian Zbik by Universum. Our demands to fight against Felix Sturm or Sabastian Zbik have been always rejected on absurd grounds. Universum had no real plan or concept for me, they did not even try to bring my career forward. They would rather try to prevent me from winning a title as long as Sturm and Zbik are champions. Furthermore, bouts against well-known and interesting opponents (e.g. Marco Antonio Rubio or Anthony Mundine) were held out in prospect, but nothing happened. This situation was not acceptable. It was time to move forward.
After defeating Lucian Bute, Andre Dirrell, Matvey Korobov in the Amateurs, do you feel like that has benefited you in developing your professional career or made you more of a fighter to avoid?
- Well, I think that if you want to be a real champion you have to fight against the best. If somebody is scared by the fights I did in my previous career, so be it. But actually they shouldn't be. I'm a really nice guy, outside the ring.
Do you feel like Sturm was making excuses about fighting you not because of your status, but because of the power you pack in your punch?
-I do not exactly know what Felix Sturm think about the current situation. Fact is that he declines the mandatory defense against me. He has created his own promotion and signed a new TV contract. There is much at stake for him and it would be a very big setback for him to be defeated in his first fight as a free agent. Could he lose against me? It is not impossible. Now it does not matter why Felix Sturm rejected to defend his title . At the moment we are waiting for WBA decision when and whom to fight for the vacant Middleweight title.
Korbov has been getting some publicity lately, often being called as the next big thing of the Middleweight division. Are you interested in fighting and defeating him once more, to dim down all the hype surrounding Korobov and focus it on Golovkin instead?
-I'm always interested in fighting big fighters. I know Matvey Korobov personally very well. Of course, someday it would be really great to meet Matvey in the ring.
Many fighters who reigned in the 160 division went north to 168 for more competitive fights. Are you considering doing the same? If so, who would you like to face? Or if you decide to stay at 160, who do you want to fight?
-At the moment I concentrate a hundred percent on the Middleweight division. There are some titles to win and guys I'm keen to fight. Like Kelly Pavlik for example. But, surely, in the future going to 168 could be an option. At 168 it would be amazing to meet Lucian Bute and Andre Dirrell again.
How did you discover boxing?
-It was my elder brother who took me to the training when I was 14.
Was your most difficult opponent amateur?
-Lucian Bute.
After your brilliant career as an amateur, you have been proposals from the major promoters to turn professional?
-First we have to end the legal issues with Universum.
Who are the News members of your team?
-The members of the team are: My managers - Oleg Hermann and Max Hermann, my agent Ivaylo Gotsev and my trainer Abel Sanchez.
How is your preparation for the fight Milton Nunez?
-I'm preparing in California, Big Bear, for the fight. Everything is great so far.
Do not you think that you should have to face another ranked opponent that Milton Nunez?
-Our team has asked every boxer ranked under the first 10 in the WBA ranking. Milton Nunez was the only one who was willing to fight against me.
Hassan N'dam claimed that you should choose him as the opponent because he is just below you in the WBA rankings? Hassan N'dam says he can beat you, will you battle against him?
-We have contacted Hassan N'dam and his management and made them an offer to fight. But they prefer to conduct another fight in Morocco in the middle of the negotiation process. So we have to choose another fighter.
Who is for you the best prospect middleweight between You, Hassan N'dam, Dimitri Pirog, and Daniel Jacobs?
-Dimitri Pirog is the WBO World Champion now. The other have to do their homework first.
Who is, in your opinion, the best middleweight in the world?
-It is really difficult to say. But may be Sergio Martinez.
Who are your favorite boxers?
-Sugar Ray Leonard and Roy Jones Jr.
What message would you like to send to your fans?
-It is really great that I have received the opportunity to be interviewed. I wish all my fans all the best and I hope to show them great fights in the future.