Sucker punch at bout nets trainer Maryland ban
Leon Lawson Jr., the uncle and trainer of interim super middleweight world titleholder Andre Dirrell, has been suspended indefinitely by the Maryland State Athletic Commission for his unprovoked attack of Dirrell opponent Jose Uzcategui after their bout on May 20 at the MGM National Harbor in Oxon Hill, Maryland.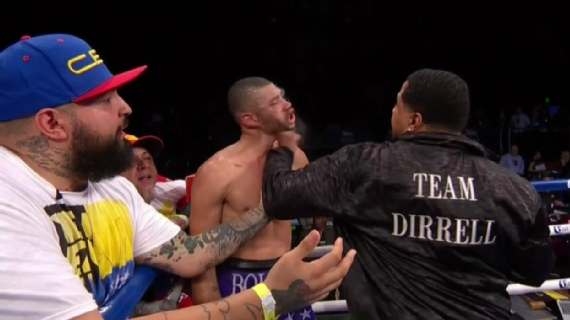 Leon Lawson Jr., a trainer and uncle of super middleweight boxer Andre Dirrell, has been suspended by the Maryland State Athletic Commision following his sucker punch attack on Jose Uzcategui.
The Maryland suspension, issued on May 23, is an administrative suspension, as opposed to a medical one, so technically other states could give Lawson a license to work in the corner for a fight, but usually states honor terms of an administrative suspension. Under federal law, commissions must honor state medical suspensions.
"Based on an initial investigation of events that took place on May 20, 2017 during a professional boxing show held at MGM National Harbor in Oxon Hill, Maryland, licensed second [cornerman] Leon Lawson II was summarily suspended by the Maryland State Athletic Commission as of May 23, 2017 for exhibiting unruly conduct in violation of commission regulations," Maryland State Athletic Commission Executive Director Patrick Pannella said in a statement given on Thursday.
"Such action is pursuant to Maryland state law authorizing the summary suspension of a licensee where the commission finds that the public health, safety and welfare imperatively requires emergency action.
"The action was taken as a result of Mr. Lawson punching professional boxer Jose Uzcategui in the face following the conclusion of the boxing contest between Mr. Uzcategui and Andre Dirrell. The Maryland State Athletic Commission's suspension of Mr. Lawson was issued on an indefinite basis. The commission is continuing its investigation and takes this matter very seriously."
Lawson, of Flint, Michigan, is unlikely to apply for a license any time soon, however, given that he faces two felony assault charges, one first degree and one second degree, punishable by up to 25 years in prison and a fine.
Dirrell was awarded an eighth-round disqualification victory to win a vacant interim 168-pound world title against Uzcategui in the co-feature of the Gary Russell Jr.-Oscar Escandon featherweight world title bout. Uzcategui hit Dirrell with a three-punch combination, the final punch landing while the bell was still ringing to end the round. Dirrell was unable to continue and referee Bill Clancy made a controversial call, ruling it an intentional foul and disqualifying Uzcategui rather than calling it unintentional and sending the fight to the scorecards for a technical decision, which Uzcategui would have won by majority decision.