Felix Diaz discusses tough beginnings
The sport of boxing at that time, wasn't established to say the least, a lack of gyms and no sight of growth in the area. That was evident, when Felix Diaz showed me a photo of him, although he cannot recollect the exact age he was in this photo - he believes he was 12-13-years old. He was pictured in front of a large brick wall, wearing bright yellow shorts, punching away at a heavy bag, he had bare feet, with tree branches and rocks surrounding him.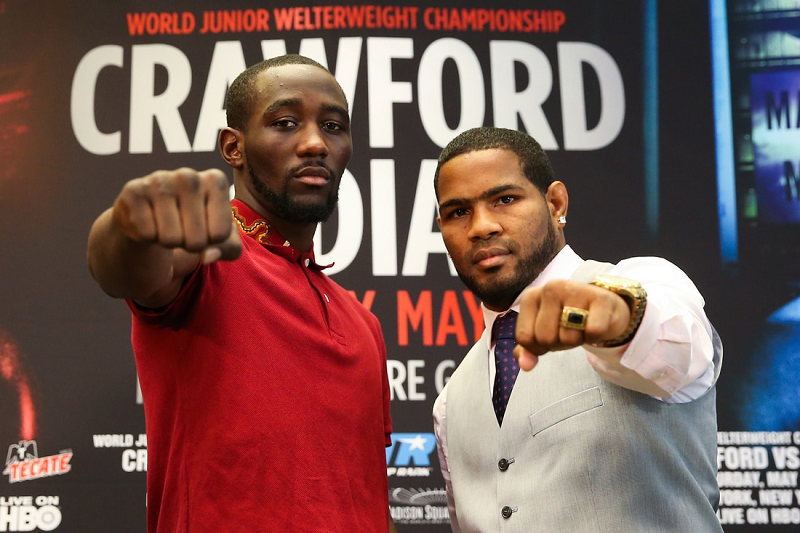 Terence Crawford vs Felix Diaz
''It was in a boxing club, that was in a backyard. Boxing in my country wasn't known, but now, boxing has started to rise, but before it did, there were not a lot of boxing gyms,'' Diaz exclusively told.
Diaz, was more focused on his studying for a large amount of his childhood, with his father not in favour of his choice of turning to boxing. From time to time he was looking for trouble, fighting on the streets of Santo Domingo, were always there.
''My childhood was a good thing, I was always looking for trouble in school but after starting boxing, it all changed. I am very problematic but then I study boxing work and that was taken away,'' continued Diaz''
''I spent a lot of time washing cars, and studying, I get into boxing through my brother and a friend. At the beginning, it was not easy, in my first 10 fights I did not win.  I never saw it as a job then.''
Now, Felix Diaz is 33-years-old, and is wrapping up his training camp before flying over to New York. He will headline Madison Square Garden arena, next Saturday on May 20th. His opponent is the undefeated Terence Crawford, the bout will be aired live on HBO.
Diaz will be aiming to claim the unified WBC & WBO championships, alongside Crawford's ring magazine and lineal junior-welterweight strap.
Crawford had a selection of three possible opponents for the May 20th date. Amir Imam, was rejected by HBO. Adrian Granados, who is coming off a highly competitive defeat to Adrien Broner, was unavailable.
That left Diaz, who has been competing at both welterweight and junior-welterweight, as the remaining option for Crawford's next title defence.
Diaz now believes his training camp for this fight, which has been held in both Las Vegas and California, has done nothing but bring out the best in himself. Physically, and most importantly, mentally.
''I can tell you that how I feel, that I am in the best shape and moment of my career. My body, my mind, everything is fine. That is why I do not feel any kind of problem for this fight,'' Stated Diaz.
Diaz, had been campaigning for the fight months prior to the announcement. At the beginning of the year. Diaz stated he was even willing to travel to Crawford's hometown of Omaha, if it guaranteed the next title shot would be his.
An a Olympic champion in 2008, Diaz is entering his eighth year as a professional and has finally landed the breakout fight, he had been searching for.
At one stage, it looked as though the opportunity had gone. He had highly disputed loss to former junior-welterweight champion, Lamont Peterson in October 2015. The fight was an opportunity for Diaz to become a serious option for a title shot. Many people believe he had done enough to win a decision, that however, did not happen.
Diaz bounced back, with a successful run in 2016 saw him pick up an impressive victory over the highly rated welterweight contender Sammy Vasquez in July. A 10-round contest that saw Diaz pick up the unanimous decision at the Legacy Arena, Birmingham in Alabama.
He then finished off the year stopping Levis Morales back home in Santo Domingo, Dominican Republic in December.
The run landed him his biggest career promotional deal, Lou Dibella had made an agreement with him, and signed a long-term contract with DiBella Entertainment. At the time, he was highly ranked with the WBC, IBF and WBO, which gave him a direct path to strike a title bout.
In boxing, majority of the decorated amateur fighters are fast tracked when they turn over as a professional. Diaz, admits that he may well could have been a world champion earlier on his career, but does not hold any frustration on the past.
''There were a lot of problems and bad advice at the beginning of my career, maybe that's why today, I'm not a world champion.''
Diaz, knew this day would eventually come, he says he had faith that his work in the gym and the consistent dedication from his team, would pay off.
''I first thank God and my team for this opportunity for this fight. I want to fight with the best,'' he said.
''I prepared very well since I know I'm going to face one of the best at the moment. I had a good training camp for this fight. I'm very strong already with an eagerness to get into the ring.''
Diaz has a few days remaining of training camp before heading out for fight week on Tuesday. He will finish off the rest of this week, training twice a day. He has been working alongside trainer Joel Diaz for the last couple of years, a partnership that has added more creativity to his training regime. Not much has changed for him heading into this bout with Crawford, with Diaz leading the corner once more.
'For this fight I'm working with Joel Diaz, Antonio Diaz and Alex Ariza. We have two sessions, a physical in the morning and then boxing in the afternoon.''
Although on paper, this will be his toughest fight, Diaz has plenty of experience in controlling the pressure of the fight game. In 2008 he reached the top of the amateur game, winning Olympic gold in Beijing. A height that he still thinks about deeply today.
''That was something that is indescribable,'' he claimed.
''The emotions, weeping all over. When I came to the Beijing Olympics I knew I could get a medal, I was working hard for that. When I was in the final and I won the gold I could not believe it.''
He is now only one victory away from repeating that in the professional game. Mostly importantly, becoming the recognised number one junior welterweight in the world. Terence Crawford, has looked exceptional in his championship run since moving up from lightweight in 2015. He defeated Thomas Dulorme in April of that year to claim the WBO crown. He unified that with a one sided points win over Viktor Postol in July of last year, bringing Postol's WBC title and the vacant ring magazine & lineal titles to his collection.
Nonetheless, Diaz believes his experience will be a key factor in derailing the hype that is rising around Terence Crawford, and delivering a victory.
''I will explain to you, my last five fights before Morales, have been Emmanuel Lartie, Adrian Granados, Gabriel Bracero, Lamont Peterson & Sammy Vasquez. I think that shows I have been fighting with the best.''
''I think my amateur experience will be a big fundamental for this fight,'' he said.
He carries a small entourage with him when he competes. Diaz' brother, who was the one who introduced Diaz to boxing back home in Santo Domingo two decades ago, will be by his side along with his wife and son in New York.
''Everything is calm. I will be with my son, my brother and my wife. My children and wife are my greatest admirers, and my brother, he lives every fight of mine.''
With just a matter of nine days until he steps into the ring, and when pushed for a final prediction, Diaz simply had one thing to say, ''I win!.''