Golovkin is not going to fight Alvarez for the fourth time
Gennady Golovkin, was a boxer targeted by HBO who ended up on DAZN after the cable network pulled out of boxing in 2018. Golovkin signed a three-year, six-fight deal with DAZN in March 2019 that guaranteed him eight figures per fight and up to $100 million in total. Golovkin's package also included a stake in DAZN and guaranteed dates for the GGG Promotions show on the OTT network.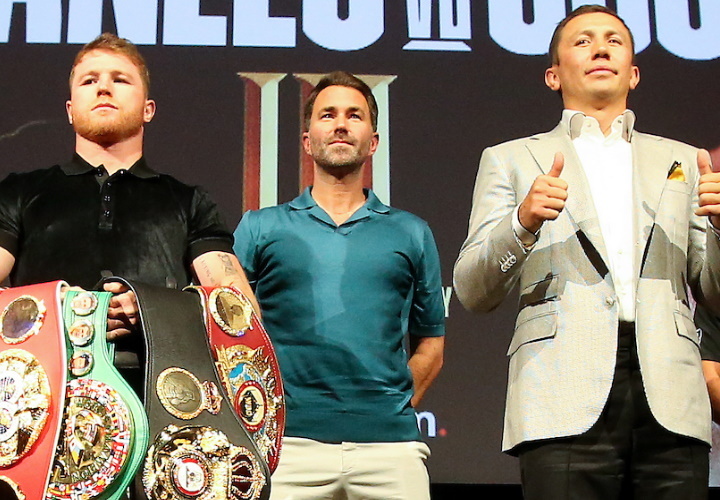 Saul Alvarez and Gennady Golovkin
Since June 2019, the 40-year-old Golovkin has fought four times on DAZN: against Steve Rolls, Sergey Derevyanchenko, Kamil Sheremeta and Ryota Murata.
Golovkin (42-1-1, 37 KOs) will finally get the fight he's been promised since signing with the streaming service when he faces Saul Alvarez in the fight for the undisputed super middleweight title on September 17 at the T-Mobile Arena in Las Vegas on a DAZN pay-per-view.
The fans had to wait four years for the third fight. In 2017, they boxed in a draw, and in 2018, Alvarez won by a majority vote of the judges. Since then, many analysts have argued that Golovkin won both fights. If Golovkin does beat Alvarez this time, will he be interested in a fourth fight?
"Probably not, because it's too expensive. For whom? For DAZN? I do not believe in this. Then for whom? For ESPN? Showtime? asked Golovkin in an interview with BoxingScene.com.
DAZN, Golovkin and Alvarez had to overcome several dead ends and obstacles over the years to eventually set up their third fight. Alvarez has always had leverage as his main party and wanted to further impose his preferred bargaining points on his archrival Golovkin.
After aggressively attempting to dominate the U.S. boxing broadcast market, DAZN has taken a major step back, no longer opening up the boxing checkbook for fights like they used to. Since DAZN signed both fighters, the platform's strategy has also shifted to a more global one, coupled with the introduction of pay-per-view after PPV was declared "dead".
DAZN also lost Alvarez when he filed a lawsuit against Golden Boy Promotions and DAZN that pulled him out of a $365 million 10-fight deal he signed in 2018. Alvarez fought three times on DAZN prior to the lawsuit, and has since fought four fights under one fight contract. Alvarez also fought once on Showtime.
As for Golovkin, DAZN asked GGG to cut his fees in 2020, which the Kazakh boxer agreed to during the mandatory defense of his middleweight title against Sheremeta.
This year, Golovkin and DAZN again had to sit down at the negotiating table and agree to a fight with Alvarez after the Mexican star verbally agreed to a two-fight deal with Matchroom Boxing and DAZN, which consisted of a fight with Dmitry Bivol in May and, finally, with Golovkin in September.
Rather than pursue an immediate rematch with Bivol after he lost a unanimous decision to the Russian, Alvarez ended up taking on Golovkin.
So Golovkin finally got what he wanted from the start, but showed no enthusiasm for a possible fourth fight.
"I wasn't 100% sure if there would ever be a third fight," said Golovkin. "After all, there was no desire on the part of Alvarez about this. He did not try to accept this fight in any way and kept putting it off. But hope remained. On the other hand, I think it makes sense for him to agree to this fight right now."