Belew: I lost to Usyk by knockout, but he really doesn't punch hard
"I'm not hitting hard? Ask Bellew if I really hit so weakly," said Alexander Usyk (17-0, 13 KOs) at a press conference. The question was forwarded to Tony Bellew, who two years ago lost to the Ukrainian, and now enjoys a sports pension.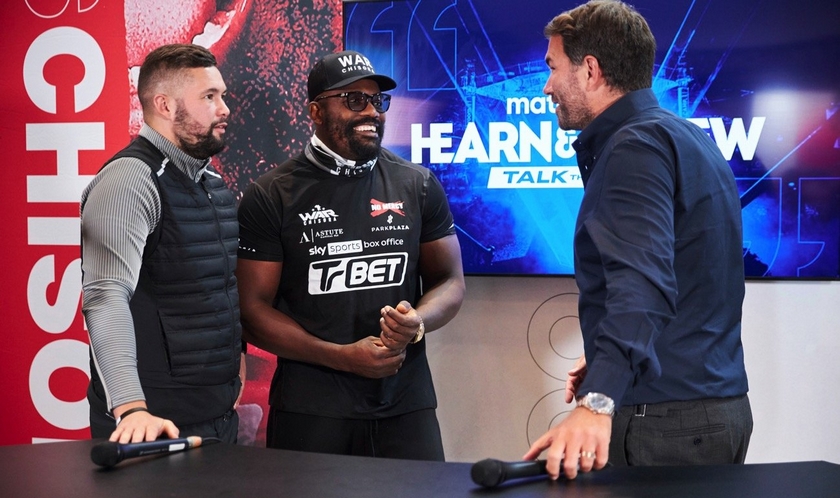 Tony Bellew, Dereck Chisora ​​and Eddie Hearn
In November 2018, Bellew lost to Usyk by knockout in the eighth round. On Saturday night he will be rooting for Derek Chisora (32-9, 23 KOs), whom he is friends with outside the ring.
"If someone knocks you out, and then you say that he did not hurt you at all, it may seem a little strange, but this is exactly what happened in my fight with Usyk. If in the second half of the fight someone hits you cleanly and you are tired, he will knock you out. If your opponent is a puncher, you won't be able to recover for a long time. I was hurt, but at the count of five I started to get up. Usyk does not hit hard, but his punches are sharp and precise. I lost because I was worse as a boxer," Bellew said.
"For me, Usyk will be the favorite in every fight, except for Fury and Joshua, but he really has a very difficult task ahead of him. In the ring, Dereck will be bigger, stronger and will try to use his extra pounds. If anyone other than Joshua and Fury can defeat Usyk, it is Chisora," Bellew said.