Lomachenko vs Campbell. Where to watch live
A live webcast of the boxing evening from O2 Arena in London, in the main event of which there will be a fight for three lightweight titles between two Olympic champion Vasyl Lomachenko (13-1, 10 KOs) and  Luke Campbell (20-2, 16 KOs). Also this evening there will be an interesting heavyweight confrontation between former world champion Alexander Povetkin (34-2, 24 KOs) and former heavyweight title contender Hugh Fury (23-2, 13 KOs).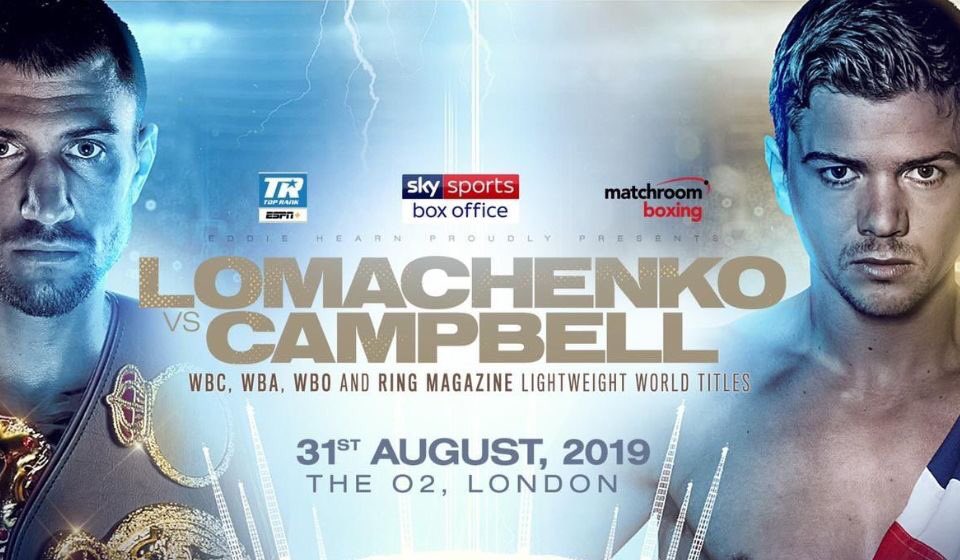 Translation of the main card from O2 Arena starts at 3:40 pm ET. In the ring at this time there will come out WBC bantamweight champion Charlie Edwards (15-1, 6 KOs) and challenger for his belt Julio Cesar Martinez (14-1, 11 KOs). Approximately at 4:45 in the ring they must begin to announce Povetkin vs Fury fight. The main event of the evening is scheduled for 5:45. Approximately at this time Lomachenko and Campbell will walk out in the ring.
In the UK, the broadcast will be held on Sky Sports with the start of the broadcast at 1 pm ET. In the United States - on ESPN+ platform starting at 4 pm. In Russia - at Match Fighter beginning at 1 pm on Match TV  with the start at 4:40.
Watch the broadcast can be here, here or here.