Lomachenko may be stripped of one of his belts
Vasyl Lomachenko announced the date of his next fight. The WBA and WBO Lightweight Champion will return to the ring on April 12. The fight will take place in the United States, but the Ukrainian does not yet know the name of his opponent.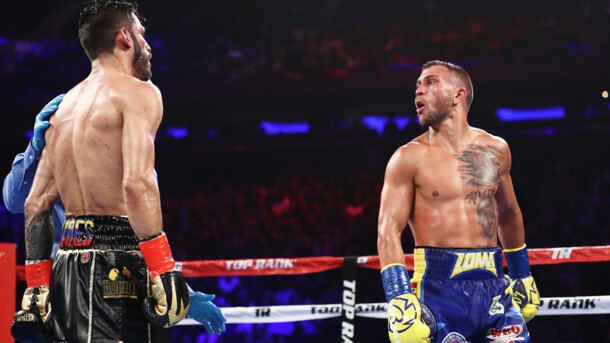 «I have a date appointed — it is April 12. It doesn't matter who will be my rival, but I already have a date. I return to the States in two weeks, where I will continue training,» said Lomachenko.
Also, the Ukrainian said that he would most likely have to choose between defending the WBA title and a title fight for the IBF belt. Earlier Lomachenko was being forced to meet with the official challenger, the bidding was scheduled for February 6. In this case, he will not be able to fight for the IBF title.
"I have several options. The first option is the mandatory WBA challenger Anthony Crolla. The second option is the winner of the IBF belt Isa Chaniev — Richard Commey. They have already signed a contract that the winner will meet me and unify the titles.
«But, as always, there are nuances. Most likely I will have to choose — to fight for IBF title, but then I will lose the WBA title, or fight for the WBA title, but then I can't fight for the IBF belt. To persuade the IBF to wait is unlikely.
«What is preferable for me? I want in one night to make a mandatory defense against Anthony Crolla and immediately after fight for the IBF belt. One evening, two fights,» joked Lomachenko.