NSAC changing Rigondeaux KO to no-decision
The Nevada State Athletic Commission plans to overturn the result of the Guillermo Rigondeaux-Moises Flores junior featherweight world title fight from a first-round knockout win for Rigondeaux to a no-decision, executive director Bob Bennett told on Monday.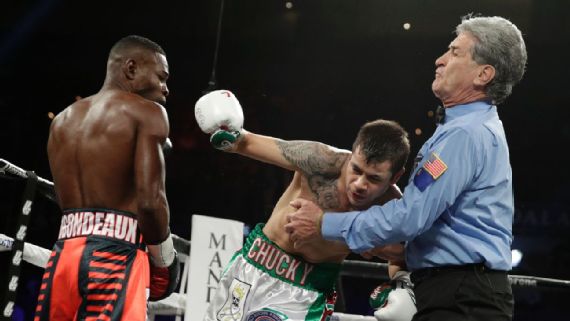 Guillermo Rigondeaux, left, who was awarded a KO victory over Moises Flores, will have to settle for a no-decision because the Nevada State Athletic Commission is expected to overturn the result due to a punch after the bell
Rigondeaux defended his belt for the eighth time when he faced interim titlist and mandatory challenger Flores in the co-feature of the Andre Ward-Sergey Kovalev II HBO PPV card on Saturday night at Mandalay Bay in Las Vegas.
The fight ended in a storm of controversy because although Rigondeaux landed a clean left hand to knock Flores out, the shot came well after the bell ended the round. On fight night, referee Vic Drakulich -- the sole arbiter of the outcome -- concluded after consulting with Bennett that a legal punch had been thrown before the bell ended the round.
Drakulich reviewed the video, which was provided to him by HBO, at ringside, which is allowed in the event of a fight-ending punch under Nevada rules. However, Drakulich had no access to the audio, which is key when it comes to ruling whether a shot was thrown before or after the bell.
He had to rely on the word from Bennett, who had consulted with the HBO production crew. Bennett said he was told twice that the punch was thrown before the bell and relied on that information.
Bennett said he and Drakulich have since reviewed the video with sound and it is obvious the shot was thrown unintentionally after the bell, which is why it will go down as a no-decision rather than a disqualification.
"I have a statement from Vic Drakulich memorializing the events that night, that it was initially communicated to us from HBO from the truck that the punch was thrown before the bell," Bennett said. "I had specifically asked twice and was told yes, the punch was before the bell. I could have been mistaken, but I don't think I was. So, based on that, the referee called it a knockout. Subsequent to our communications with the HBO trailer, it was brought to my attention the punch came after the bell. Now we have something that is completely different than what we were told. Once we did the replay and we heard the sound, we knew it was a mistake."
On Sunday morning, Bennett said he watched the replay with sound numerous times on a video HBO provided to him.