Nationality:

Born:

Feb. 16, 1990 (33 years)

Place of Birth:

Sverdlovsk, Russia

Height:

6′0″ / 183 cm
Record:

11-1-1, 8 КО

Division:

Middleweight (185 lbs)

Debut:

Sept. 30, 2014
Next fight of Vladimir Mineev is not determined yet.
Date
Participant
Record
Results
Date
Participant
Record
Results
Boxing News: Vladimir Mineev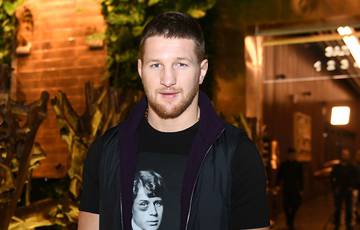 March 1, 2022, 2:53 a.m.
AMC Fight Nights Middleweight Champion Vladimir Mineev spoke about a possible confrontation between UFC middleweight title holder Israel Adesanya and Khamzat Chimaev.
---
VLADIMIR MINEEV PROFILE WHAT IS VLADIMIR MINEEV'S RECORD?
Vladimir Mineev's record currently stands at 11 wins, 1 lose and 1 draw.
WHAT WAS MINEEV'S LAST FIGHT?
Vladimir Mineev's last fight took place against Magomed Ismailov on Oct. 16, 2021, in Krasnaya Polyana, Russia. He won by TKO in the 3 round. That fight was 5 months and 17 days ago.
HOW ACTIVE IS VLADIMIR MINEEV?
Mineev's last 3 fights have come over a period of 4 years, 2 months and 17 days, meaning he has been fighting on average every 4 months and 26 days. In those fights, he fought a total of 11 rounds, meaning that they have lasted 3 rounds on average.
WHERE IS VLADIMIR MINEEV FROM?
Mineev was born in Russia.
HOW OLD IS VLADIMIR MINEEV?
The Vladimir Mineev is currently 33 years old. He was born on Feb. 16, 1990, so he will turn 34 in 10 months and 14 days.
HOW LONG HAS MINEEV BEEN FIGHTING?
Vladimir Mineev made his professional debut in September 2014, so he has been a pro for 8 years.
HOW TALL IS VLADIMIR MINEEV?
Mineev is 6' 0" (6 Foot and 0 inch) which is 183 cm (1 meter and 83 centimeters).
WHAT WILL BE VLADIMIR MINEEV'S NEXT FIGHT?
Vladimir Mineev doesn't currently have a fight scheduled