Haney: Lomachenko is small, but boxing IQ is more important
"Lomachenko is small, I was actually even surprised how small he is, but size is not the main thing in the ring," says Devin Haney (29-0, 15 KOs), the undisputed lightweight champion who will defend all four of his belts on May 20 against Vasily Lomachenko (17-2, 11 KOs).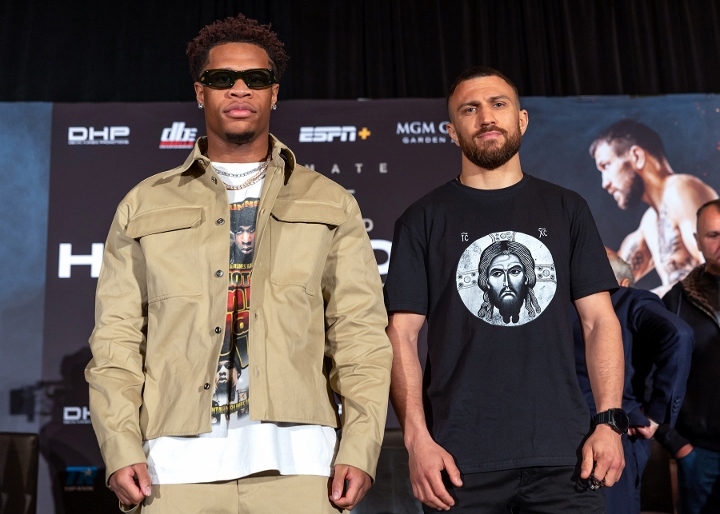 Devin Haney and Vasily Lomachenko. Photo - Mikey Williams
"At the end of the day, size doesn't matter, boxing skills matter. Nakatani is probably even bigger than me, and Lomachenko easily beat him. The day before the fight, we will both weigh the same. Not physical parameters, but boxing IQ will matter the most, and I am sure that my IQ in the ring is at a higher level than his. I appreciate his achievements in Olympic boxing, but I'm from a different school, the Mayweather school. My father worked with Virgil Hunter, Eddie Mustafa, Roy Jones and Mayweather Sr. This is a different boxing school than Lomachenko's, in my opinion, better and more effective," said the undefeated American.
Bob Arum works with both boxers, although this fight will be the last one under his signed contract with Haney. Perhaps Devin will extend it and remain in the ranks of Top Rank. Earlier, the 90-year-old promoter said that if Lomachenko wins, he will definitely match him with Shakur Stevenson (19-0, 9 KOs). At the same time, Arum is not sure that Haney will be able to make a limit of 61.2 kg in the future.