Golovkin: Canelo says he lost a couple of rounds to Bivol? He's delusional!"
Gennady Golovkin claims he was not surprised when four months ago Dmitry Bivol won Saul Alvarez. Golovkin knew both boxers well and expected Alvarez to have a hard time dealing with Bivol. Bivol fought as a light heavyweight throughout his seven-year professional career, and Golovkin saw this as another advantage for the undefeated WBA champion.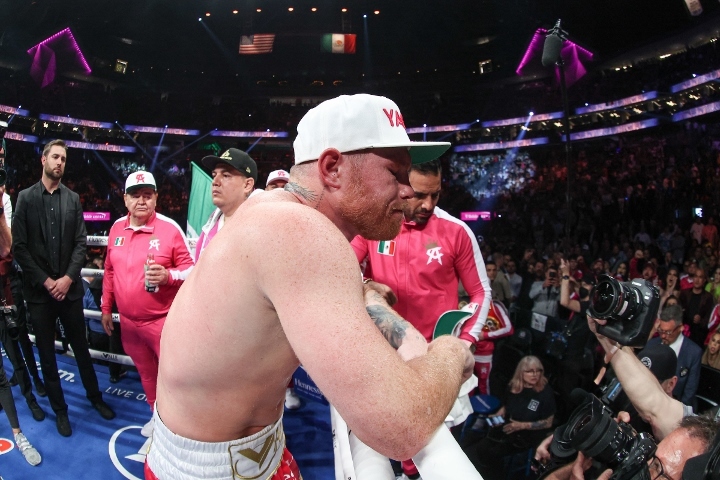 Saul Alvarez
But Golovkin admitted that he was confused by how Alvarez himself assessed the way the judges assessed their fight. All three hookers counted 115-113 in favor of Bivol, whose performance seemed to guarantee a bigger win on the scorecards. Alvarez stated during the post-fight press conference that he "may have lost four or five rounds, but he definitely didn't lose the fight."
According to CompuBox statistics, Bivol landed 68 more punches overall than Alvarez (152 of 710 vs. 84 of 495). CompuBox counted more Bivol power punches (106 out of 292 vs. 74 out of 266) and more jabs (46 out of 418 vs. 10 out of 229).
Golovkin did not elaborate on how he scored the Bivol-Alvarez fight, but admitted that Alvarez lost more than the seven rounds the judges gave Bivol.
"It would be inappropriate for me to suggest what the score might be," Golovkin said in an interview with BoxingScene.com. - I'm not a judge. People probably still doubt my opinion about this fight, and I don't want to do that. But Bivol looked better, and his victory was more convincing than the judges' score showed. Canelo's behavior when he raised his hands after the fight and later stated that he probably only lost a couple of rounds shows his loss of reality and his inability to adequately assess what is happening.
The loss to Bivol proved that Alvarez could indeed lose by unanimous decision in Las Vegas, while Golovkin himself believes he deserved more than the results of his first two fights against Alvarez.
Bivol's performance against Alvarez was more convincing than anything Alvarez or Golovkin had achieved in their first two fights. At the same time, Golovkin believes that Bivol could have performed in an even more dominant style.
"I wouldn't say I was surprised by Bivol's victory because I know who Canelo is and I know who Bivol is," Golovkin said. "What surprised me the most was the reaction of people who were in some kind of illusion, who basically deceived themselves for a long period of time. I think Bivol could be better. We all saw how he looked after the fight. He didn't even look tired. He had the opportunity to make his victory more convincing."