Salita: Technologically, Usyk and Joshua are completely different fighters
Promoter Dmitry Salita does not believe that Anthony Joshua able to make the appropriate adjustments to win Oleksandr Usyk in their upcoming rematch. Joshua lost on points to Usyk last September at Tottenham Hotspur, but will try to regain the IBF, WBA and WBO heavyweight titles on August 20 when he faces Usyk in a rematch in Saudi Arabia.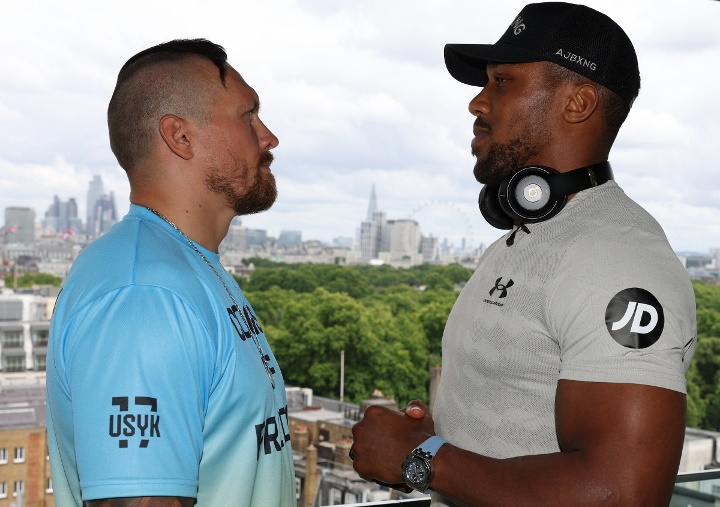 Oleksandr Usyk and Anthony Joshua
To prepare for the second meeting, Joshua parted ways with longtime coach Robert McCracken and hired veteran coach Robert Garcia. But even with a new team and Joshua's mountain of motivation in this meeting, Salita confidently prefers Usyk.
"Usyk is a better fighter and I just don't see how AJ can make adjustments to beat Usyk, I don't see that," Salita said in an interview with BoyleSports Boxing.
"Usyk is a very experienced fighter, he made an amazing amateur career and is an Olympic champion. As a child, he was taught the science of boxing, and he really knows boxing like a scientist on a scientific level. He is a boxing master, one of the most educated boxers in the world, and maybe of all time. He is very, very well trained in terms of boxing."
"This does not take away from AJ, he is a great fighter and has done many amazing things in his career, but when he defeated Klitschko, it was the peak of his career. And after that, in each battle, he gradually and little by little slipped down.
"AJ is an athletically very gifted and hardworking boxer and he did the best he could with what he has. But I believe that in terms of skill and boxing knowledge, these are two different athletes. The only advantage that AJ has is that we do not know how what is happening in Ukraine has affected Usyk. Did it inspire and motivate him, or did it cause him pain and emotional upheaval? In fact, no one knows this, "said Salita.