Hearn: White and Joshua may have interim fights before their rematch
Eddie Hearn is not sure that in the next fight Anthony Joshua meet with Dillian Whyte. The promoter hopes that in a worst-case scenario, Joshua and White will have one interim bout before their rematch takes place next summer at Wembley Stadium in London. Hearn suggested that Joshua could face American Jermain Franklin, who proved to be a tough opponent against White last Saturday.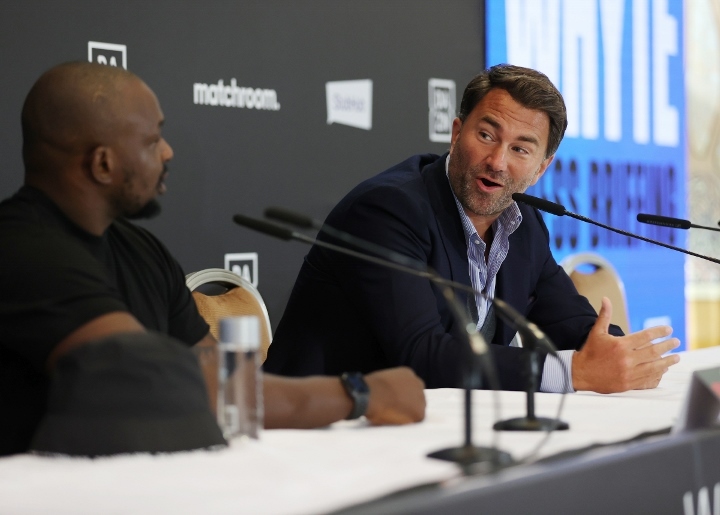 Eddie Hearn and Dillian Whyte
"I think it's always going to be a big fight," Hearn said of the Joshua-White rematch during White's post-fight press conference following his win over Franklin. - You know, I sincerely believe that they always wanted to fight each other again. You know, they are 1-1, White won one amateur fight in 2009, Joshua won one professional fight. The second fight, which, it seems, was already in a past life, was simply a legendary event.
"And there will be a third one too. This time it will not be O2, but Wembley. So, you know, I think we'll see what happens next with Dillian. Maybe Dillian will have a fight in February, March, and AJ in March, and then they will meet in the summer at Wembley. Or maybe they will have their revenge right away. We will talk to everyone and see what happens next."
"Maybe AJ will fight Jermain Franklin in February or March," Hearn added. - I dont know. He proved himself very well, gave a good fight to Dillian Whyte. You know, but I think Joshua has several candidates he is considering. But I don't think Dillian is seriously considering a rematch with Jermain Franklin."
"But at the same time, I think he wants big fights, and as you approach the end of your career, and that goes for both Dillian and AJ, you realize they probably have five or six fights. That's why we need big fights, because every training camp is hard. At this stage, there is no point in arranging small fights, because every training camp is a hard training camp, "added Hearn.