Ward and Kellerman on Alvarez' third fight with Golovkin
It would not be an exaggeration to say that the third fight Saul Alvarez (58-2-2, 39 KOs) with Gennady Golovkin (42-2-1, 37 KOs) greatly disappointed boxing fans around the world. Former super middleweight king Andre Ward and ESPN expert Max Kellerman decided to express their opinion on this trilogy.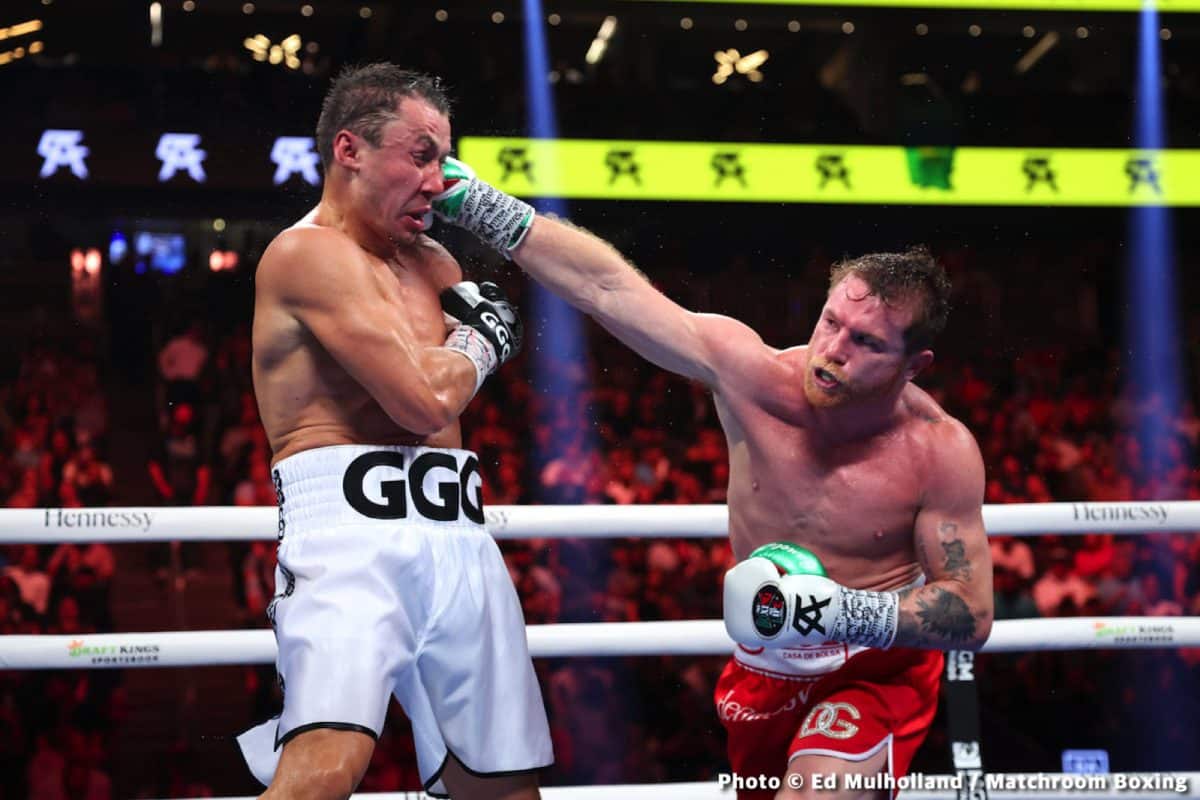 Gennady Golovkin and Saul Alvarez
According to both, the age of the boxer from Kazakhstan and his level of endurance played a big role, the experts were also surprised by the Mexican boxer's lack of desire to end the fight ahead of schedule. Canelo's entire career was also evaluated.
Max Kellerman: Canelo won the third fight with Golovkin, who, by the way, is 40 years old.
Andre Ward: And he already looks forty.
Kellerman: It's true, but in the second fight with Canelo, he looked like a man who can still fight at the highest level, although I saw the Mexican win then. There were those who believed that Golovkin won. Surely the vast majority saw GGG win in the first fight, and so did I. In the third, Canelo left no doubt. However, this duel was unsuccessful compared to the previous two battles, which were full of drama. What do you think of Canelo?
Ward: I thought he would knock out this version of Golovkin. If Canelo is what is being called one of the greatest fighters of all time, then he should use the form of an opponent who literally stepped into the ring just to get paid.
His attitude towards his opponent was a little shocking. I thought he would knock him out. At the same time, Golovkin's form did not surprise me. I was surprised by the attitude of the fans, who suddenly realized that Golovkin looked old. He's been looking like this for two or three years now, and since he's boxing a little Mexican, everyone justifies the fact that he's taking too many punches. He can no longer see the blows.
Come to think of it, Alvarez is the biggest name, the only real name on Golovkin's track record. Regardless of your attitude towards him, this is true.
Kellerman: This is true. For a while, it seemed that Golovkin was a dangerous opponent who should not be faced by boxers of middle or lower weight.
Ward: I don't think he wanted to fight some of them. I don't talk about myself. There were some boxers that we both know about from the HBO days that he didn't want to fight.
Kellerman: Canelo started his career as a super middleweight and won super middleweight, middleweight and super middleweight titles, moved up to light heavyweight and knocked out Kovalev. It was not Kovalev in the form in which he boxed against you, but he still won fights.
In the end, he lost to Bivol, but for me, when you move up in weight and fight the best, it's normal. I don't blame him for this. And so he defeated Golovkin. He still hasn't fought Benavidez that I would like to see this fight. He also didn't fight any of the Charlo brothers, let alone the bigger guys. How would you rate Alvarez's achievements?
Ward: It's complicated. At first glance, he did everything, he fought with everyone, he took all the risks. However, if you know what you're looking for on the track record and are looking for some loopholes, Canelo doesn't have many top-notch names on the track record that were in top shape when you met him.
Canelo is definitely a great boxer. He's had a great career, he's definitely a Hall of Famer. However, it seems to me that his career is slightly embellished, powdered. His promoters have done a great job. Much credit must be given to Oscar De La Hoya, who at the beginning of his career was Canelo's co-promoter and perfectly matched his opponents.
They know when to make the right statements for Canelo and when to stay away. The fight with Benavidez will not take place at the moment, it will not happen, because Benavidez is too dangerous.
Kellerman: I think it's a little unfair, I'm already saying why. Fighting opponents like Ostryn Trout and Erislandy Lara like Canelo did - if you only care about money, you don't need to settle for such duels, especially against a Cuban boxer.
Canelo went for them and emerged victorious from them. By the way, I consider these judges' verdicts justified. The fights were very close, but Alvarez won both of those fights in my opinion. The one with Lara was very close.
Ward: You agree to such fights if you believe that you can win. Therefore, now he does not need to rush to fight with Benavidez.