Stevenson: "Conceiçao didn't seem like a good boxer to me, I was surprised when he won gold at the Olympics"
Shakur Stevenson and Robson Conceicao sparred several rounds ahead of the 2016 Olympics in Rio de Janeiro. They competed in adjacent weight classes, but boxed each other in preparation for their performances in different divisions. Brazilian Conceicao won gold in lightweight. Stevenson settled for silver when he lost a decision to Cuban Robeysi Ramirez in the bantamweight final.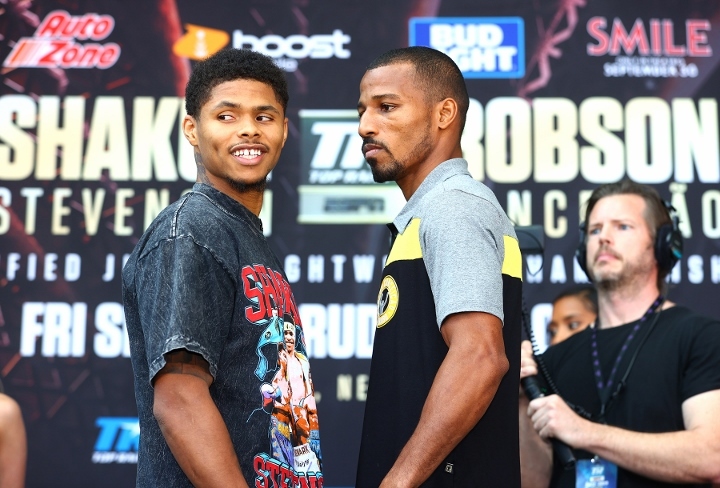 Shakur Stevenson and Robson Conceicao
"He surprised me a bit because I sparred with him before the Olympics," Stevenson told BoxingScene.com. — I sparred with him in Brazil and didn't think he was that good. He surprised me by winning an Olympic gold medal."
Conceição and Stevenson have not sparred since, and will perform in the main event of the evening at the Prudential Center arena in Stevenson's hometown of Newark next Friday. The WBC and WBO super featherweight titles would only be on the line for Conceição as Stevenson failed to make weight and had to leave both of his titles vacant.
"Shakur says that in those sparring matches he had a huge advantage, but this is not so," Conceicao said in response. — It was a regular sparring, light sparring. I see every sparring as an opportunity to learn and grow. This Friday, I'm just determined to show him how much better I am in a real fight."
"I think he's a little jealous of me," says Olympic champion Conceicao. - I won the gold, but he didn't. Now he thinks he is the best. I feel like he's jealous of me."
"His surprise at our sparring just proves that training is one thing and real fighting is another," Conceicao added. "For me, it was just a regular workout. It's one thing for me to just train, and another thing to actually fight. He thinks I'm worse, but I'm not, and that's why I'm going to be World Champion this Friday."