Sanchez: "The main thing before the fight is not to listen to extraneous noise"
Undefeated heavyweight contender Frank Sanchez proved it with his last victory, a convincing decision of the judges over Efe Ajagboy, in the battle of undefeated super heavyweights in October, that the right opponent will help unleash his potential and prove that he is one of the best boxers in the sport. Before the fight, Sanchez (19-0, 13 KOs) was considered better technically savvy, while Ajagbe (15-1, 12 KOs) was given the role of checking the Cuban's chin.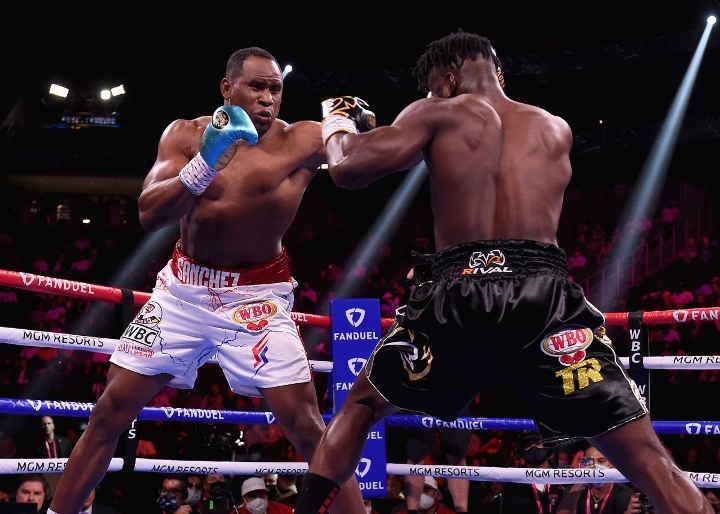 Frank Sanchez vs. Efe Ajagba
But the opposite happened: Sanchez sent Ajagba to the floor in the seventh round on his way to a convincing victory. This episode did not come as a surprise to Sanchez, who hoped to silence his ill-wishers before the next fight in which he faced Christian Hammerto replace Carlos Negron this coming Saturday in Hollywood, Florida.
"The most important thing that I understood from the fight with Efe Ajagba is that you can't listen to outside noise," Sanchez said. - All I've heard about is how he knocks everyone out. But it's not just how hard you hit, it's your technique and skill level. During the battle, I realized that I could break him. This was the main lesson for me. Talking outside the ring is not as important as what you can do when the gong rings. "
Sanchez emerged from the alleged trial unscathed and received a faster return than expected. The 10-round New Year's fight with Hammer (26-8, 16 KOs) will take place less than three months after defeating Ajagba and this will be his fifth fight in just under fourteen months.
"My fight in October turned out to be easier than I expected," said Sanchez, stablemate of P4R King Saul Alvarez (57-1-2, 39 KOs) under the guidance of renowned coach Eddie Reinoso. - Therefore, when I was offered a fight on January 1, I did not hesitate. I had a good last fight and I wanted to maintain that momentum until 2022. "
Sanchez Hammer is the main undercard event of the evening, which culminates in a fight between former world champion Charles Martin (28-2-1, 25 KOs) and two-time world title challenger Luis Ortiz (32-2, 27 KOs).