Golovkin says he knows the secret of how to beat Alvarez
IBF Middleweight Champion Gennady Golovkin sure he has the keys to beating the Mexican superstar Saul "Canelo" Alvarez. Golovkin's first fight against Canelo ended in a controversial draw in 2017. A year later, Canelo won the rematch by majority decision.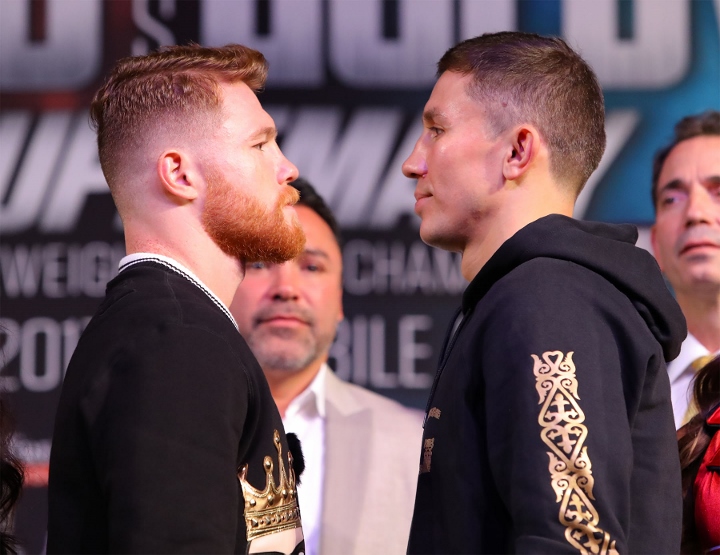 Saul Alvarez and Gennady Golovkin
After the second meeting, their third fight was often discussed in the media, but their teams in the end managed to sit down at the table of serious negotiations. While Golovkin remained in middleweight, Canelo moved up the weight classes.
Canelo knocked out Caleb Plant this month to become the undisputed super middleweight champion. In 2019, Alvarez knocked out Sergei Kovalev and won the world light heavyweight title, which he later left vacant, dropping to 76 kg. And next May, Canelo plans to make a huge jump in weight to challenge WBC first heavyweight champion Ilunga Makabu.
Golovkin will have to move to at least super middleweight to face Canelo. But weight, according to Gennady, is not an obstacle for him, and he claims to have a "secret" recipe for defeating Canelo.
"Of course there is a secret. But this is not a secret that you are not talking about, it is a secret that you demonstrate. The right advertising must be done, the organizers must do it, and I am sure that Canelo has secrets against me, I have secrets against him," Golovkin said in an interview to The Sun.
"We all have the keys to victory, and the only way to check if these keys fit the lock is to arrange this battle to take place. This fight needs to be properly covered and should be of great interest to everyone. Because, to be honest, this is one of, if not the most, demanded fight, although this will be our third fight."
"The demand for watching this fight is likely to be the highest of all. If he fights this guy, fights someone else, and then we meet, that would be the wrong approach. But if the fight progresses correctly, there will certainly be interest in organizing it," added Golovkin, who will travel to Japan next month to face WBA middleweight champion Ryota Murata.