Kovalev: I've deleted a lot of mistakes. It's time to change
Former world champion Sergey "Krusher" Kovalev (30-2-1, 26 KOs) spoke with Southern California's mass media and worked out for them on Tuesday, November 14. Kovalev battles Vyacheslav Shabranskyy for the vacant WBO light heavyweight title on November 25th in New York City.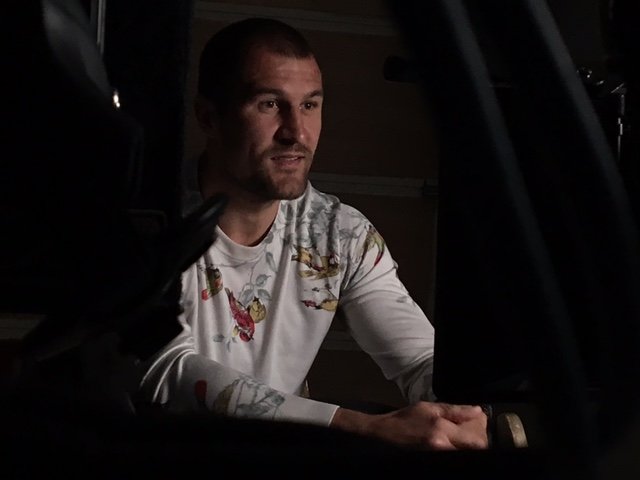 Sergey Kovalev
Sergey "Krusher" Kovalev - former WBA/IBF/WBO light heavyweight world champion:
"Right now, God has blessed me and given me this opportunity to get back to this level. Maybe in the future, we can do unification fights between every champion. In every division, there must be one champion. I follow this goal, and right now I'm working on it."  
"I worked hard by myself, but with Abror, these workouts are different dosages, intervals. If today we're working very hard, then next day is a little bit lighter, working on my style. When I work myself, I work hard every day. I didn't give a rest to my body, it wasn't good."  
"We're just working on my strengths, what I can do the best. We are working on my body, my style, and what I can do much better."
On his new diet regimen:
"More natural, more organic. I like it. If you cook right, it's very delicious and very healthy. You're feeling this, I'm feeling what I'm eating. I am what I'm eating. You are what you eat. Really, I feel this and my energy is much better with the right food."
"I'm very glad to work with Abror. We understand each other; we speak the same language. It's the most important thing. I understand what he wants. If he says something about an exercise and I don't agree, we discuss it and we find compromise, some solutions. It's almost never happening, because what he's giving me, I understand it can help me. We are the same mentally, I understand where we go, for what, and why. I feel very comfortable to work with him and very happy has control of my training camps and my conditioning for my shape."  
"Slava Shabranskyy is a real fighter. The fight is going to be interesting. He is ready to fight and I am ready, too. He is very motivated because it is a title fight for the WBO title. We're both happy and very motivated. It will be a great fight."
"Let me show you November 25th different boxing, the real Sergey Krusher Kovalev. I've changed a lot of things. I've deleted a lot of mistakes. It's time to change."