Kovalev: "I want to put Ward back in his place"
Yesterday, former WBO, WBA and IBF Light Heavyweight World Champion, Sergey "Krusher" Kovalev (30-1-1, 26 KOs) and his team hosted an international conference call to discuss his upcoming rematch with Andre "S.O.G." Ward (31-0, 16 KOs) which will take place June 17 live on HBO Pay Per View®, and live from the Mandalay Bay Events Center. Below are some highlighted quotes from the call: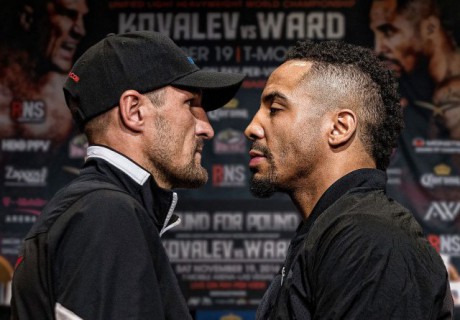 Sergey Kovalev and Andre Ward
Sergey Kovalev: "This training camp we deleted all my last mistakes and like doing good. Like I think that right now is much better and right now is training camp is going right. Everything is good and we will see June 17."
"You know, like, everything depends from my preparation how I get the best shape for the fight. And I'm trying to get now in best shape for June 17 and we can see what will happen June 17. I don't know, like, how exactly the fight is going to be by decision or somebody stop each other. Let's just see. I don't have a prediction. I just have one goal to beat Andre Ward and beat all shit from him because he doesn't deserve the belt and the status of a champion. He now is really high his nose and walking everywhere and don't see the people around him. I want to put him back in his place."
"Yes, I feel much better, you know, I am not any nervous about my shape right now because the last – before last fight I couldn't say before the fight like I came to fight and say I don't want to fight him because I am not ready. I gone to the fight and walked stairs into the ring, you know, and fought Andre Ward with empty strength. My energy strength was empty one month before the fight. And right now, I understand that I did very great fight in myself with empty strength against who I believed was the best American fighter. You know, and good fighters get in the ring there. But now I feel that this fight is going to be different and much better than last one."
"I just felt like the most what they give me motivation is haters. When I lost, I used to take a lot of punishment that I lost. In Russia is more than in America, you know. But in America, even in America, boxing fans of Ward text me by Facebook, by Instagram, by social media that I won the fight. And they right now are going to support me in next fight. And right now is my most motivation is haters, haters yes. And I want to disappoint them and team Ward, team of Ward because they right now speaking a lot of bullshit to my side. They say that I this, I this, I this. I don't care. They will pay inside the ring for everything for what they said. Trust me."
Kathy Duva, CEO of Main Events: "I'm really happy with the 24/7 that just came out. I was just watching it today and I was beginning to see it today online and I would urge anyone who hasn't seen it to take a look. I think HBO's work is always the very best; it is always brilliant. People are saying this is the best 24/7 in years and that's quite a statement when you consider the quality of the work that they do. So, that seems to me to be a great selling tool and hopefully that's going to have a big impact in the next few days."
"I believed for a long time that Sergey does his best work when he doesn't like his opponents, so Ward and his people have done a great deal to ensure that will be the case. So, I'm really happy about that."
John David Jackson, Trainer of Sergey Kovalev: [On the first fight] "Yes, I watched it; I scored the fight. I had a 9-3 best for us and 8-4 worst for us, but he won the fight. He dominated the first half of the fight. The second half of the fight he didn't dominate as much as he could have but, you know, what Ward did didn't really justify him getting the decision outside that. Sergey won the fight hands down. You know, the judges, why they scored it only they know exactly. We can't dwell on the past. But whatever Ward did to survive those rounds didn't really merit a victory for him, but he got it and we have to move on with that and just prepare for the second fight. The one thing I will tell the fans is Sergey proved the first half of that fight that he can outbox Ward at Ward's own game. And I always knew he could. So, he showed that he could so it just adds more to what we need to do for the second fight."
"Let me answer something first. Honestly, if you look at it, Sergey is not going to have to do much more than what he did because he proved to the fans in the first half of the fight that he can win it at Ward's own game. Now what he needs to do is be more aggressive and effective in the second half of the fight the way he did in the first half of the fight. But he proved he's a better fighter, he's a bigger puncher. You know, for all Ward's team is claiming how great he was, if that's his best, then guess what, he's past his prime because all he did was survive. And in surviving he was given points and awarded I guess the decision that he survived.
[On the possibility of Ward changing his game plan] "They may. Listen, if you're a fighter and you're smart, you come in and make adjustments. What adjustments can Ward make? He can be more aggressive. If he does, that works in our favor. Is he going to run more? If he does, that works more in our favor. The best thing he can do, as champion, he needs to prove that he won that first fight outright. Which he didn't. So, now he needs to be a little more aggressive. How much smarter in the ring can he be than what he would be, would he be a tremendous talent as far as boxing-wise in the ring? So, you can't get much more brilliant than he is now. He has to be – if they're going to change his game, he has to be more aggressive, he has to be willing to take more chances to prove that he did beat Sergey the first fight, which he did not. So, there's not much more than he can do than they did for the first fight.
"He's good at what he does and that's surviving and making the fight ugly and win the way he wins. You can't knock him for that. But can he improve? No, not really. He did the best he could that night and he survived and he was even given points for that. So, if you're going to make any adjustments, they may be small adjustments, but they're not going to be adjustments that make him a better, more aggressive, dominating fighter. Then guess what, they need to be playing Russian Roulette and he's going to get clipped."
"I never said Andre was a dirty fighter. I said the things that he does, they're not fan-favorite because he does hold a lot. As far as the inside game, there is no real inside game for him. Look, a true inside fighter doesn't grab and hold the whole fight. He makes his hands free, he blocks shot and he counters back. That's not what Andre does, he does hold a lot. But those things work for him and you can't knock it. If it works and you're winning and he has fans for it, okay let it be that. Sergey held somewhat himself. Later in the fight, he got fatigued so he did hold a lot. But we're working on that for the second fight. And this fighter, he can be the best fighter because you have to think about this. When you have the power that Sergey has, tremendous God-given talent, the power that he has, we don't need him to hold on the inside. If Andre wants to fight on the inside this time, which they may try to fight more on the inside, then he has to do a gamble and the gamble is can he take the body shots that Sergey is going to hit him with?"
"Here is what Ward's team is going to try to do: they tried to disrupt our team because, at this stage, they know that's all they really can do. If they have – if they need – if they want to be honest about it, they can say we really didn't win the first fight but we got the decision. Okay that's part of boxing. We have to – and our side has to accept that. But now to try to play mind games and try to make different maneuvers to offset our camp, you can't do that. Our camp is strong. Actually, what they did, and I'm glad they did it, it made us even stronger and become closer and we're working a whole lot better. So, I need to thank them for doing the things that they thought were going to offset our camp. It made camp better for us. So, I appreciate it. And for them to say that I reached out to them personal, come on, seriously? If you want to say that, fine, I have no problem with that. Come June 17, all the things that Sergey wants and he does to have back his belts, he's going to get that. He's going to do what needs to be done and that's fight inside the ring, not talk, to be the champion and to fight. If Ward really wants to prove that he is the better fighter, then fight. Fight a good, hard fight, not do what you do best and that's to be – he takes guys and maneuvers them around the ring and wins fights strategically but not in an exciting fashion. For this fight, here, to prove that you deserved the first decision that you got and that you are the champion, fight. Stand in the ring and fight this man and prove that you're the better fighter and show the fans that, you know, you deserve this fight, this title. So, we'll see. We'll see what happens come the 17th. But when all is said and done, Sergey Kovalev's hand should be raised, he should be world champion once again."