Dubois to Usyk: "Your time has passed"
Daniel Dubois said that the rehabilitation of his injured knee was successful, that he "learned to walk again", and now promises to put an end to the championship Oleksandr Usyk in heavyweight.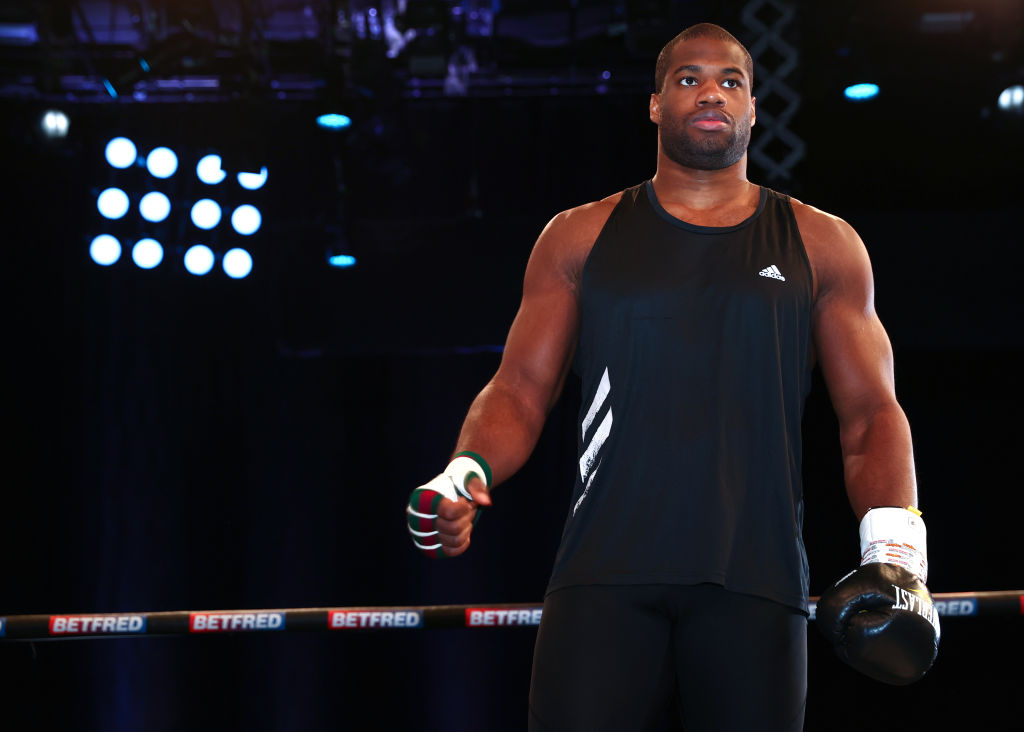 Daniel Dubois. Getty Images
Usyk officially refused negotiations for a duel with the WBC champion Tyson Fury this week, and the Ukrainian's manager, Egis Klimas, said his team will now seek to make mandatory defenses of his WBA, WBO, and IBF titles.
First in line is Dubois, a WBA regular champion who claims to be fit and healthy following knee surgery to repair his anterior cruciate ligament injury from his fight with Kevin Lerena. In that showdown last December, Dubois hit the floor three times in the first round but ended up stopping the South African in the third round.
After the fight, Dubois underwent surgery and spent months of painful rehabilitation.
"It was a serious injury, but I had surgery right after the fight almost four months ago," Dubois said. - Entering the ring by the end of May, June is not a problem at all. It was an anterior cruciate ligament injury, I walked on crutches for about a week after the operation, but I felt that I could recover quickly. During that fight, I had a lot of thoughts in my head, like: "Damn it, I need to get up." And I got up and went through it. I didn't even realize I had a knee injury when it happened."
"Rehabilitation was long, boring and hard, but it was worth it. It was like learning to walk all over again, a very boring thing. I can hit again, bags, paws, all that, and my knee feels brand new, stronger than before. I run like Usain Bolt."
The WBA gave Usyk's and Fury's teams until April 1 to agree on what the sanctioning body called a "mega fight" that would allow Usyk to delay his mandatory defense against Dubois. But now Fury-Usyk is far from reality, and the former undisputed heavyweight champion will have to fight Dubois in the next fight or give up the WBA title.
There have been speculations that Dubois might pull out of the fight to gain more experience at the top level before trying to win the full world heavyweight title, but the London-based boxer doesn't seem to be putting off his title shot until later.
"I got the opportunity to fight for more than one belt. This is what I do boxing for. Why miss this opportunity? I have enough strength to win this fight. I am ready to put an end to his reign. I am 100% ready, healthy and ready to knock him out. How can I do it? I just need to land the right punch. It's all about time, and this is my time. He's a little guy, isn't he? So I have to check this chin. Can I be more successful than Derek Chisora? Certainly".
"I have to get into the ring, believe in myself and put pressure on him. I think this is definitely the key to success. How did Chisora ​​do it, and he does not have such strength as I do. Usyk, your time is up. I have to let go of my hands, not hold back and just be myself. I know what to do. My coach knows what to do. When I look at him, I see ways to win and I know that I have enough strength to knock him out. This is how I am, this is how I fight, and I bring destruction to my opponents, "Dubois said.