Alvarez: I respect Golovkin as a fighter, I'm not sure about the man
Hugs after fight Saul Alvarez and Gennady Golovkin were regarded by the audience as a sign of mutual respect on the part of the opponents, who over the past five years have spent 36 joint rounds in the ring, trying to blow off each other's heads.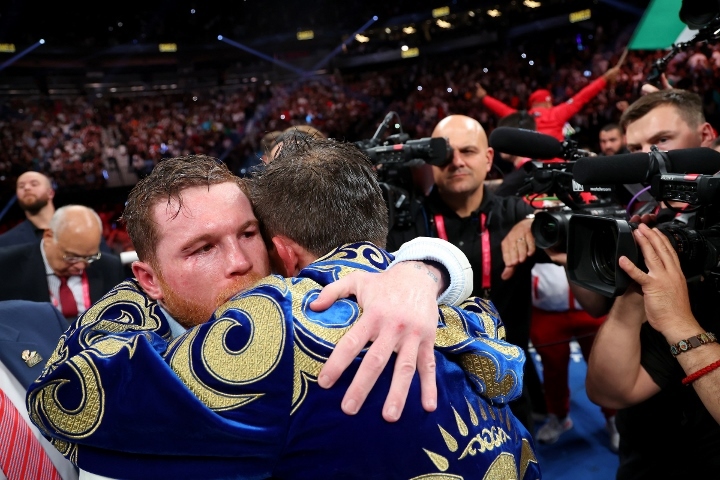 Saul Alvarez and Gennady Golovkin
Golovkin even kissed Alvarez on the cheek when they hugged right after Saturday's fight at the T-Mobile Arena in Las Vegas. Both graciously continued to speak respectfully of each other during their post-fight interviews, which Alvarez won via unanimous decision.
At the same time, Alvarez (58-2-2, 39 KOs) noted at a press conference after the fight that the professional respect he showed for Golovkin (42-2-1, 37 KOs) does not mean that he has forgotten all the negative statements from Golovkin. The boxer from Kazakhstan frequently recalled that the Mexican superstar had tested positive twice for banned clenbuterol prior to their scheduled May 2018 rematch. The four-weight champion has made it clear that he still has doubts about Golovkin as a person.
"I respect him as a fighter," Alvarez said. - As a person - I don't know. But I'm not going to take it to any level, because I consider myself a good person. I seemed to say to him: "It is an honor for me to share one ring with you. And we gave the fans three good fights." So, I was happy to share one ring with him and have three fights with him that will go down in boxing history.
Alvarez, 32, has always stressed that their second and third fights were personal to him because Golovkin constantly called him a fraud for failing the aforementioned drug tests. At the same time, Golovkin constantly stated that their confrontation was not a personal matter for him, but just a purely business matter.
"Honestly," said Alvarez, "you know, I am very glad that I managed to defeat one of the best fighters in the world, Gennady Golovkin. Perhaps in the future there will be another fighter with whom I will have the same relationship. You know, we had three great fights and I respect him as a fighter."