Haney: "Rolly nobody, Tank on a whole other level"
Devin Haney respects George Kambosos Jr. and what he achieved by defeating Teofimo Lopez. But the undefeated WBC lightweight world champion doesn't appreciate the Rolando Romero. Haney wonders how Romero even climbed to No. 1 in the WBA at 61kg, which secured him an upcoming WBA world title fight against Gervonts Davis in light weight.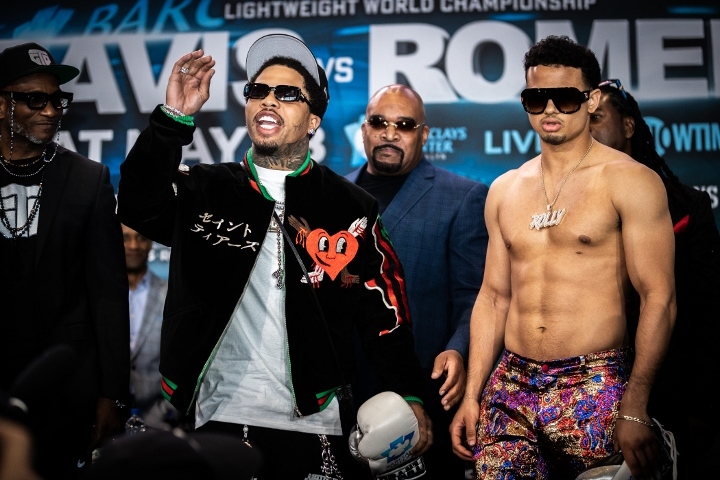 Gervonta Davis and Rolando Romero
Davis (26-0, 24 KOs) and Romero (14-0, 12 KOs) will face off in the main event on Showtime on May 28 at the Barclays Center in Brooklyn. During an interview with BoxingScene.com, Haney explained why he thinks Davis will get his way against Romero in their 12-round 61kg bout.
"I think Tank will win," said Haney, who will face Kambosos on June 5 at Marvel Stadium in Melbourne, Australia. — I think that Rolly is nobody. I don't consider him a boxer at all. I mean, who did he defeat to prove that he is generally one of the best? What did he do to get there? Who did he beat?"
"The biggest fight he ever won was for the interim belt against a guy he actually lost to. So, it speaks for itself. "Tank" is a completely different level than "Rolly", so I don't worry about this fight at all. For me, it's not even competitive."
Haney cited Romero's highly questionable unanimous decision victory over Jackson Marines in August 2020. Many then thought that the Dominican Marines outboxed Romero in this fight, but Romero won with a score of 118-110, 116-112 and 115-113.
As a result of the fight, Romero won the interim WBA lightweight title, but in August last year, the WBA eliminated all of its interim titles due to the consequences of the scandal between Gabriel Maestre and Mikal Fox.
Davis is also not a full WBA lightweight champion. This title belongs to Kambosos, who won the WBA lightweight belt along with the IBF, WBC and WBO titles from Lopez (16-1, 12 KOs) on November 27 in New York.
Kambosos (20-0, 10 KOs) will defend his IBF, WBA and WBO crowns against Haney (27-0, 15 KOs) on June 4 in Australia. In the absence of a tie or no-contest, the winner will become the first-ever undisputed lightweight champion of the four-belt era.