Fury-Usyk in the Middle East?
Promotional bids will take place on Friday to organize a fight for the WBC heavyweight belt between Tyson Fury (30-0-1, 22 KOs) and Dillian Whyte (28-2, 19 KOs). Meanwhile, the Gypsy King's promoter Bob Arum told talkSPORT that investors from the Middle East want a four-belt fight between Fury and Oleksandr Usyk (19-0, 13 KOs). However, the head of Top Rank does not seem to be optimistic about the "Arab version".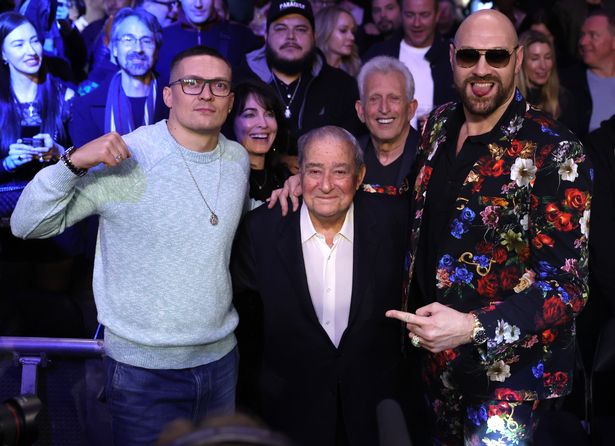 Oleksandr Usyk, Bob Arum and Tyson Fury
"It looks like total chaos," Arum admitted. "There are promises to organize Usyk-Fury fight and pay Whyte for refusing. But this also includes people who do not have treaty powers. I don't know how it will end and who these people are from the Middle East. All I know is that Queensberry and Top Rank have a contract with Tyson Fury and no one has talked to us about buying the rights," the WBC champion's promoter added.
It is worth recalling that about a dozen days ago, Tyson Fury announced on social networks the "return of the Arab king." What he meant at that time, he has not yet explained, although a few days later he promised "great news." At the same time, do not forget that Oleksandr Usyk is contractually obliged to rematch with Anthony Joshua (24-2, 22 KOs), who must also receive "compensation" in the event of a unification fight for four titles.