Cambosos Lopezu: "I won honestly, take it like a champion"
Saturday night at the Hulu Theater Arena in Madison Square Garden in New York. George Kamposos won by split decision over Teofimo Lopez and won WBO, IBF, WBA and WBC lightweight titles. After twelve rounds, the judges counted 115-111 and 115-112 in Kambosos's favor, while the third judge preferred Lopez 114-113.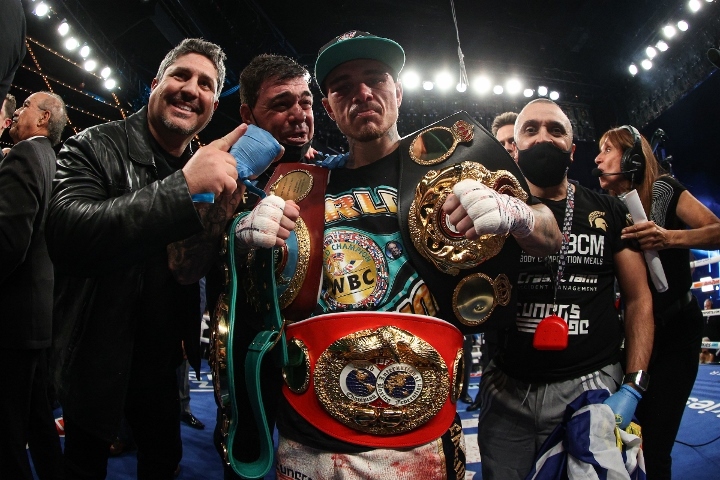 George Kamposos
Kambosos defeated Lopez, who defeated Lomachenko, and now considers himself the best in 61 kg.
"Have I changed all week? Have I changed my entire career? No ... I'm not a king because we have four lightweight kings. I am the emperor! I am the greatest fighter in Australian history. This is for my children, my grandfather George Kambosos, who passed away two months ago. This is for my family, my wife, my grandfather. I know that he is now with me in the ring, "- said Kambosos.
Lopez expressed his disagreement with the result and stated that he was robbed by the judges, and Kambosos said he was ready to fight Lopez again.
"I won the fight honestly. Look at your face. Take it like a champion, let's do it again in Australia. Eighty thousand fans in Australia, let's do it again, "said Kambosos, who has won all of his key away fights while traveling internationally, making a name for himself.
"The other guys in Australia are just making a little noise, talking about the big game and saying they want to come here. But when it comes to booking a flight, they don't, "Kamposos said. - Therefore, I do not understand how the fans support them. They don't want to go overseas and chase their dream where the most important thing happens, chasing big fish. There is a big difference in performing in the comfort of your own home and staying within your comfort zone and taking risks to reach the top and achieve the title of world champion. They don't want to do it, but Kamposos did it and has done it for many years. We are here, we are fighting in the grandest event Australia has ever seen. This is the pinnacle of sport. "