Whyte: "Fury has aged, he's been missing a lot"
Tyson Fury (31-0-1, 22 KOs) came out the winner of his trilogy with Deontay Wilder - once their meeting was rated a draw and twice he won early. But along the way, he's been lifted four times from the ring floor and according to Dillian Whyte (28-2, 19 KOs), that will soon come out.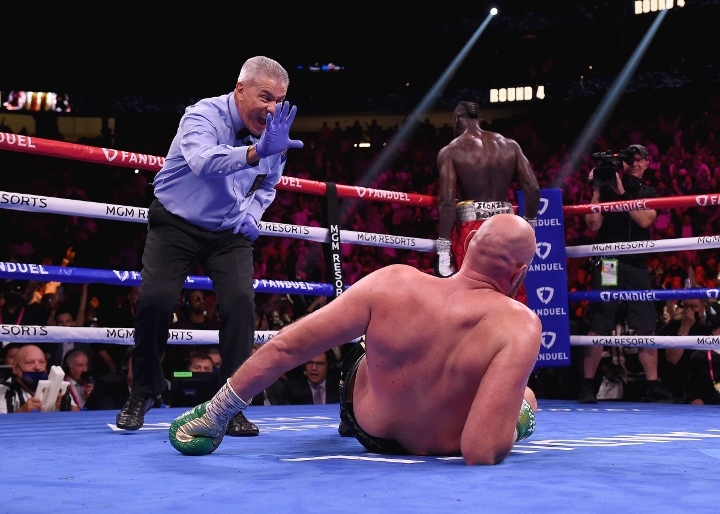 Tyson Fury vs. Deontay Wilder
Whyte believes the WBC will nominate him as a mandatory title challenger, despite the fact that he cancelled his fight with Otto Wallin. In that case, "The Gypsy King" would have to fight Whyte immediately. As of now, the WBC champion's return is originally scheduled for March.
"I trained very hard for Vallin and spent a fortune on training. He complains that he spent 20,000... Well, I spent $120,000 on this camp. I wanted this fight, but I got injured. I was told that if I got in the ring, I might even put my career at risk. I'm not afraid of anyone, but now I want to fight Fury immediately. It will be the biggest fight in British boxing since Lennox Lewis vs Frank Bruno," Whyte said, rubbing his hands together, adding that Wilder has obviously taken "a lot of power" away from Fury in their confrontations.
"Fury came out victorious in the third fight, but Wilder took a lot from him with those knockdowns. On top of that, I got the impression that Fury has aged a bit, which makes him slower and slower. And it's because he's not as fast as he used to be that he tries to break his opponents down physically, Cronk Hall style. But he's slowing down and missing more and more, a lot more than he used to," Whyte said.