Fury wants to weigh 300 pounds and knock Wilder out
Tyson Fury (30-0-1, 21 KOs) made a number of confident statements at the press conference with Deontay Wilder (42-1-1, 41 KOs). The fight will take place on July 24 in Las Vegas. The "King of the Gypsies", who most of the time posed shirtless in front of reporters, promised to put Wilder in another quick knockout, claiming that on the day of the confrontation he would weigh about 300 pounds.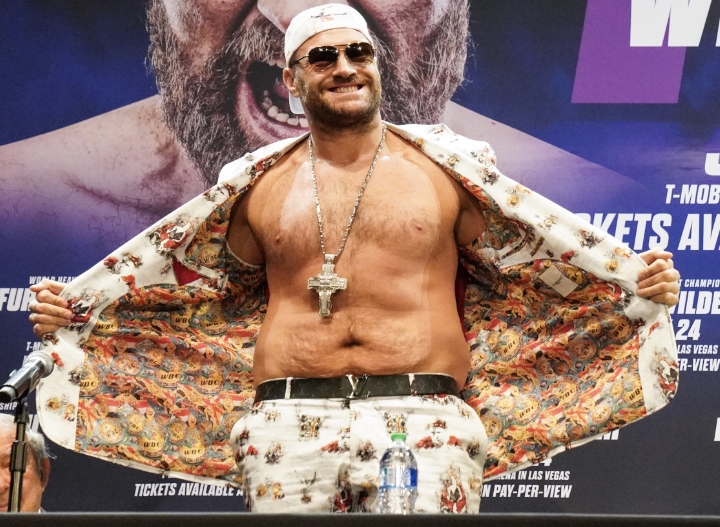 Tyson Fury
"I can't believe that he will be ready for this fight physically and mentally. He agreed to it for the wrong reasons, and when that happens, people end up badly," Fury said. "Let's see if I keep my word and overeat him faster than in seven rounds. I think I can do it."
"I used to have 5-6 weeks to think about what I was going to do with him, now I have 18 months," said Fury, who will enter the ring for the first time after full preparation under the guidance of coach Sugar Hill Steward.
Wilder at the press conference, on the contrary, surprised and disappointed many fans and journalists by refusing to actively participate in it. The Bronze Bomber limited himself to a short speech in which he thanked God, his team and lawyers. He refused to answer media questions.
"This shows how mentally weak he is," Fury commented on this behavior of his opponent. "I beat him, and you see how it affected him. I'm worried about him. It is his choice not to answer questions. I'm here to promote our fight, and I can play both roles - I will be both Wilder and Fury," the Briton said.
Wilder justified his decision to remain silent later after meeting with the press in an interview with Elie Seckbach: "I did not come here to chat. In this fight, I have business to do, and I only focus on it. Fury has no friends, all his friends are haters of Deontay Wilder. Let him arrange this circus. Let's see if he can handle my pressure in the ring. He is my accomplice in this crime. I am Batman and he is Robin. Let him entertain people and watch them come to our fight," the former WBC heavyweight champion said.