Povetkin vs Whyte rematch to be held at the stadium?
Travel restrictions imposed by the UK authorities forced Eddie Hearn to relocate the venue for the rematch of Alexander Povetkin (36-2-1, 25 KOs) and Dillian Whyte (27-2, 18 KOs). The fighters will cross their gloves on March 27 in Gibraltar with fans to watch their second fight live.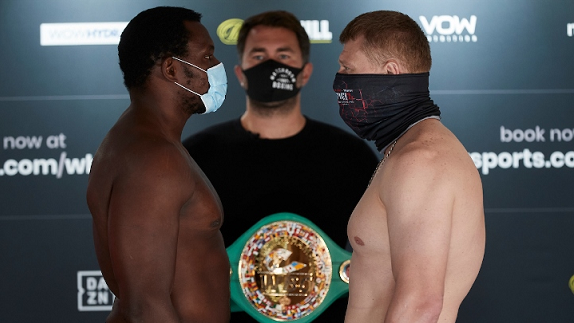 Dillian Whyte and Alexander Povetkin
"There is a possibility that the fight will take place at the stadium. We have three possible locations, we will make a decision soon. We still don't know how many viewers will be able to watch this fight live. Ticket information will be announced shortly. We have already organized several other sporting events in Gibraltar. We have good experience with this country," Hearn said.
"All British boxers will gather in London. Here we will go through the first tests and quarantine. Later we will fly to Gibraltar in a private Matchroom jet. There will also be new tests and quarantines awaiting us. It will be a new experience for us," the British promoter explained.
The event will be shown in the UK via Pay-Per-View. The first boxing fight took place in August. Povetkin knocked out Whyte in the fourth round, despite that he had been on the floor twice in the previous round.