Joyce promises to knock Usyk out
Joe Joyce (12-0, 11 KOs) wants to fight Alexander Usyk (18-0, 13 KOs). The Briton, who last Saturday stopped the previously undefeated Daniel Dubois, claims that he's able to repay the Ukrainian for his defeat in amateurs.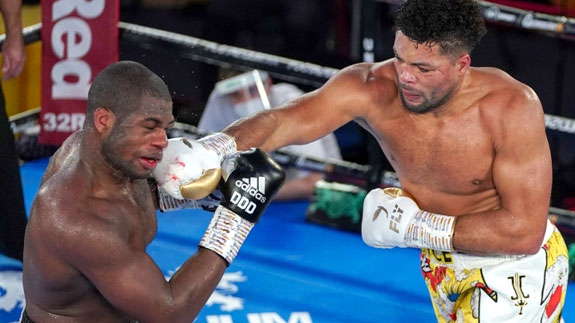 Daniel Dubois - Joe Joyce
"A rematch for the title fight would be amazing," Joyce said. "Now I train more, spend more rounds, I can hit more often. I could wear him down and knock him out!"
"Usyk is small for the heavyweights, but I respect him because he is very technical and difficult to hit. He recently added a little muscle, so he slowed down. I think my legs work better and I'm better than Chisora ​​as a boxer. Fighting Usyk would be a great option. I think I can beat him."
Before Saturday's fight with Joyce, Daniel Dubois was ranked second in the WBO heavyweight ratings. The leader in this list is Alexander Usyk, who, as a mandatory contender for the title, will face a duel for the title against Anthony Joshua. If AJ, already determined to confront Tyson Fury, abandons the fight with Usyk, he will lose the title, for which the Ukrainian could then fight with another fighter from the list of contenders.