Ruiz Jr.: I haven't signed anything, I want a rematch in New York
Andy Ruiz Jr. (33-1, 22 KOs) in the interview to ESPN Deportes said that he was not going to fight Anthony Joshua (22-1, 21 KOs) on December 7 in Saudi Arabia. The Mexican believes that the clause of rematch in the contract for their first fight does not oblige him to comply fully with the will of AJ's promoter and requires a new contract before the second fight, given his new claims.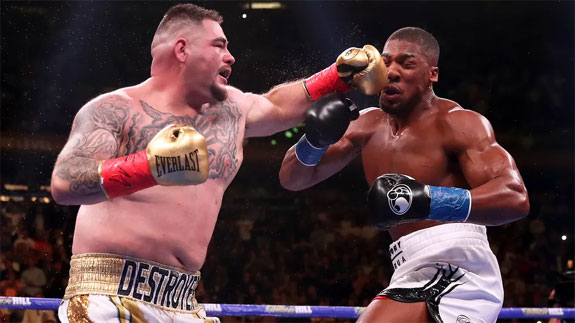 Andy Ruiz vs Anthony Joshua
"I have not signed anything yet, we are still talking," WBA, WBO and IBF heavyweight champion said. "They want to fight there, but we'll see where this will take place, we will negotiate it. I would like to fight in New York again, where I had won. I'll give him a chance to try to beat me, he wants my belts, so he has to do it here!"
"I think he will move more in the rematch, he will run, but he is too large, has too many muscles, and it will be very difficult for him to get away from me," said Ruiz, when asked about the predictions of the second fight with Joshua.