WBSS: Taylor - Martin, Burnett - Donaire. Where to watch live
A live broadcast of the boxing evening from Glasgow, in the main events of which in the two quarterfinals of the second season of the World Boxing Super Series (WBSS) WBA lightweight champion Ryan Burnett (19-0, 9 KOs) will defend his title against the legendary Filipino Nonito Donaire (38-5, 24 KOs). In the second one the owner of the WBC silver super lightweight title Josh Taylor (13-0, 11 KOs) will meet unbeaten Ryan Martin (22-0, 12 KOs).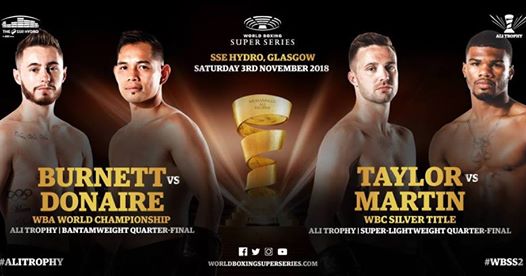 At the same evening, the former world champion Victor Postol (29-2, 12 KOs) will hold his next fight against Siar Ozgul (14-1, 3 KOs). Formally, in the event of an injury to one of the participants in the Super Series, Postol can replace him.
The stream is over.
You can watch the video here: