Light heavyweight Dmitry Bivol looking to show his talent on PPV card
While unified light heavyweight titleholder Andre Ward and former titlist Sergey Kovalev, two of boxing's pound-for-pound best, are set to renew hostilities in a rematch Saturday night, viewers may very well get a look at the future of the division on the undercard.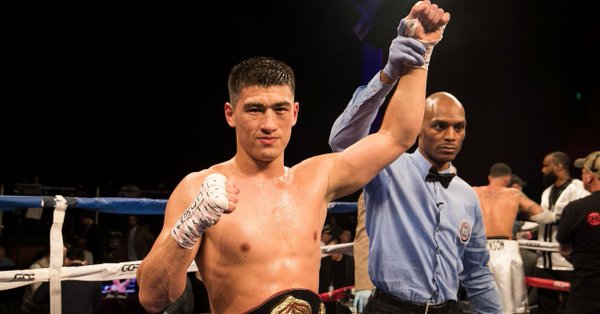 Dmitry Bivol
Dmitry Bivol, one of the best up-and-comers in boxing, will take on Cedric Agnew in a 10-round bout on the televised undercard (HBO PPV, 9 p.m. ET) at the Mandalay Bay Events Center in Las Vegas as he continues to try to make an impression on American boxing fans.
Bivol, 26, of Russia, looked outstanding in a fourth-round knockout of Samuel Clarkson to retain his interim world title on April 14 in the main event of a "ShoBox: The New Generation" card on Showtime in his American debut.
Bivol's plans did not include such a quick return to the ring after that fight, but when the opportunity to fight on the Ward-Kovalev II undercard came, he and his team jumped at it.
"Dmitry just fought recently so it wasn't really in our plans to have him fight again on (Saturday) after he fought April 14, but when the opportunity came up and we were able to work out a deal the way we did, we decided he would fight," Vadim Kornilov, Bivol's manager, told ESPN. "It's definitely about getting him exposure to the fans who are watching the best possible light heavyweight fight that can happen now. And when they do that they will see another guy who is coming up who could be fighting one of those guys in the main event sometime in the future."
Kornilov made the deal with Kovalev promoter Main Events for Bivol to initially fight contender Sullivan Barrera, who is promoted by Main Events. Ultimately, it did not work out and Barrera wound up signing for a fight against fellow contender Joe Smith Jr. on HBO on July 15.
But Kornilov said Main Events stuck to its word, found a new opponent -- after many turned Bivol down -- and kept him on Saturday's card.
"Main Events came through and put him on the card against an opponent who is not their fighter," Kornilov said. "We appreciate that."
Bivol (10-0, 8 KOs) is promoted by Russian promoter World of Boxing, but Kornilov said they hope to continue to work with Main Events on Bivol's career as the plan is for him to fight regularly in the United States.
Bivol said he was pleased that the deal worked out for him to fight Saturday because he really likes fighting in the U.S., where he is convinced that his crowd-pleasing style will help him build a fan base.
"In reality, when you are inside the ring, mentally there is no difference whether you are at home or in the U.S. or somewhere else," Bivol said. "You have your opponent in front of you and that's all I think about. I enjoy fighting in the U.S. because the fans are very supportive and they will support the fighter they like, no matter what country or nationality he is. It's all about being fan-friendly.
"Anybody can create a big fan base for themselves in the U.S. We have our preparation system, our technique which we adhere to. It works well for me so we don't change it much and just make adjustments to the different opponents we are facing."
Agnew (29-2, 15 KOs), a 30-year-old southpaw from Chicago, is perhaps Bivol's most experienced opponent. He was a standout amateur and in 2014 challenged Kovalev for his 175-pound world title in Atlantic City, New Jersey. He gave Kovalev a few problems but eventually got knocked down twice in a seventh-round knockout loss. Two fights later Agnew lost an eight-round split decision to Clarkson. Agnew, who did not fight at all in 2016, has won two fights in a row since.
"Agnew is an experienced boxer," Bivol said. "He fought for the world title before against Sergey Kovalev. I have not faced opponents of his experience yet. I think he will stick to the same tactics that he usually does. He has been victorious in many fights using his counterpunching technique. I expect him to do the same with me. We will see what happens in the ring on fight night."
Still, the fight is a 10-round nontitle bout. Bivol would have preferred to defend his interim belt -- which puts him in line for a mandatory shot with titlist Nathan Cleverly -- but because Agnew has been fighting six- and eight-round fights since the loss to Kovalev, Kornilov said the Nevada State Athletic Commission would not approve the bout as a 12-rounder.
"It was a big disappointment to us," Kornilov said. "But we respect the rules and the commission." Fighting in front of an American audience was more important to Bivol and Kornilov than having the bout be for the title.
"The belt is important but the priority is for him to be exposed to the U.S. public," Kornilov said.
Bivol, who had a big amateur career (285-15), is very advanced for a boxer with so few pro fights, but he also knows he is not a finished product after only 2½ years in the paid ranks. So even though he wants to defend his title, get a shot at Cleverly and take on the best in the division, he is willing to take his time.
"I look at my fights a bit differently. I don't assume that one is more important than the other," Bivol said. "A boxing career is like a staircase and when you're successful with each win, you move up the staircase and this fight, of course, is another step up the staircase for me."
So far he is making very strong progress up the staircase he described.
"It's going better than we planned," Kornilov said. "He's fighting on a pay-per-view event on the undercard of this great main event. As far as his career progressing, I've seen him spar some of the best guys in the super middleweight and light heavyweight divisions, so I am confident how he can perform against the best guys in the world. I am very confident he can perform at a very high level with a world champion in the division.
"He also thinks he's very close to being ready to fight the top guys but we don't want to rush too much. We're not in a rush. We want to go step by step. Even though I am confident and I think he is ready to fight a world champ now, I'm not in a rush. He deserves the chance to gain more experience. I would say the fighter feels like he's close to being ready to fight one of the top guys in the division, but he's not in a hurry either."