N'Dam wins vacant WBA 160lb belt by split nod over Murata
Hassan N'Dam N'Jikam (34-2, 21 KOs), 159.5, barely won the vacant WBA middleweight belt as he was awarded a split decision over previously undefeated 2012 Olympic gold medalist Ryota Murata (12-1, 9 KOs), 159.5, over twelve rounds on Saturday in Tokyo, Japan. The official tallies were as follows: Gustavo Padilla (Panama) 116-111, Hubert Earl (Canada) 115-112, both for N'Dam, and Raul Caiz Jr. (US) 117-110 for Murata.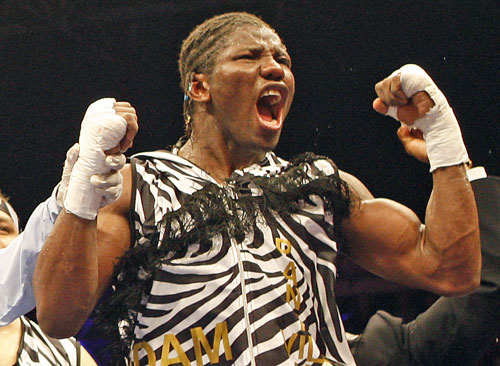 Hassan N'Dam N'Jikam
Murata, in round four, connected with a beautiful right counter, dropping N'Dam to the deck in the closing seconds, but couldn't follow up and accelerate his attack by utilizing superior power afterward. N'Dam kept moving to-and-fro to avert Murata's stronger but sporadic punches, though occasionally losing his equilibrium.