Nationality:

Residence:

Rio de Janeiro, Brazil

Born:

Feb. 14, 1989 (34 years)
Record:

17-6, 2 КО

Division:

Welterweight (170 lbs)

Debut:

Sept. 19, 2009

Alias:

Pedra
Next fight of Marcio Santos is not determined yet.
Date
Participant
Record
Results
Date
Participant
Record
Results
Boxing News: Marcio Santos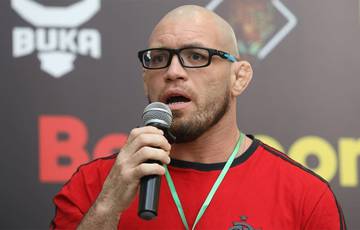 Dec. 1, 2021, 12:04 a.m.
Marcio Santos announced his readiness to meet Magomed Ismailov in the next fight. The 32-year-old Brazilian, who overcame Alexander Emelianenko with a choke hold last weekend, expects to receive a purse of five million rubles for the fight.
---
MARCIO SANTOS PROFILE WHAT IS MARCIO SANTOS'S RECORD?
Marcio Santos's record currently stands at 17 wins, 6 loses and 0 draw.
WHAT WAS SANTOS'S LAST FIGHT?
Marcio Santos's last fight took place against Alexander Emelianenko on Nov. 27, 2021, in Syktyvkar, Russia. He won by SUB in the 1 round. That fight was 10 months and 4 days ago.
HOW ACTIVE IS MARCIO SANTOS?
Santos's last 2 fights have come over a period of day, meaning he has been fighting on average every month and day. In those fights, he fought a total of round, meaning that they have lasted round on average.
WHERE IS MARCIO SANTOS FROM?
Santos was born in Brazil.
HOW OLD IS MARCIO SANTOS?
The Marcio Santos is currently 34 years old. He was born on Feb. 14, 1989, so he will turn 35 in 4 months and 13 days.
HOW LONG HAS SANTOS BEEN FIGHTING?
Marcio Santos made his professional debut in September 2009, so he has been a pro for 14 years.
WHAT WILL BE MARCIO SANTOS'S NEXT FIGHT?
Marcio Santos doesn't currently have a fight scheduled