Gary Russell: "My dad's leg was amputated, and I train, in fact, by myself"
WBC Featherweight Champion Gary Russell Jr. admitted that his preparations for the upcoming title defense on January 22 against Mark Magsayo is not going as planned. His father and head coach Gary Russell Sr. had one leg amputated last month due to complications from type 2 diabetes. Russell Sr., 62, has coached Gary and his other sons throughout their amateur and professional careers, but will no longer be able to attend most of Russell Jr.'s training sessions ahead of the Magsayo fight.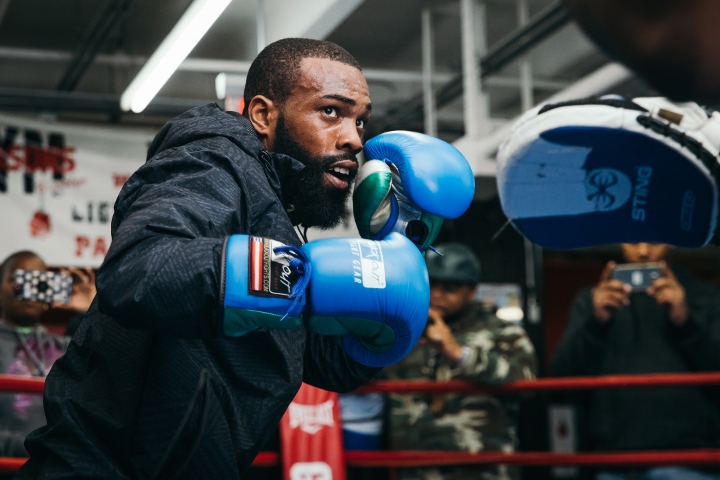 Gary Russell Jr.
On January 22nd in Atlantic City, NY, Russell (31-1, 18 KOs) will enter the ring after an almost two-year hiatus in his mandatory defense of his championship title against Filipino Magsayo (23-0, 16 KOs).
"Prep camp was not going well," Russell Jr. admitted during a virtual press conference on Tuesday. "A lot has happened. Dad had an amputation. His leg was cut off. He is my coach and also my father. Now I am essentially training myself. Now my father is not in the best health, but he tries to appear in the hall as much as possible. But we are working. We are ready. No complaints, no whining. We will get what we need."
Russell Sr. tries to follow his son's workouts over the phone while he was hospitalized in November and December, and more recently from home. He was recently able to hit the gym, and Russell Jr. is hoping his dad can be in his corner during the fight next week on Saturday.
However, it is likely that Russell Jr.'s younger brothers - bantamweight challenger Gary Antonio Russell and prospect welterweight champion Gary Antoine Russell - will also be working in Gary's corner alongside Rodrigo Mosquera, Russell Sr.'s longtime assistant.
"My brothers will definitely work in my corner," Russell Jr. assured. "Rodrigo Mosquera always helped us well. He always does a great job in the corner. My father, he is a warrior at heart. He needed to go back to the hospital for an examination, but he decided that he would do it after my fight was over. He decided he had missed enough time in training camp and wants to devote the rest of what he has to me and the rest of the camp. You know, I am grateful to him for that. It means a lot to me. And again it gives us strength."