Benavidez: "If Canelo doesn't want to fight me, let him vacate the titles!"
Unbroken super middleweight avenue David Benavidez Jr. is serious about meeting the main star of his weight category and all boxing Canelo Alvarez. Benavidez ranks first in the WBC rankings and has repeatedly stated that he is ready to meet with Alvarez. The 25-year-old is struggling to reclaim the top spot in the division after losing his WBC title twice outside the ring.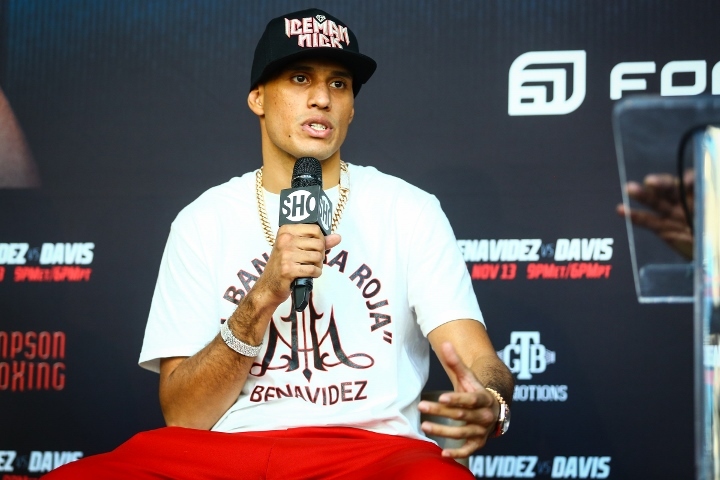 David Benavidez Jr.
Regardless, Eddie Reinoso, Alvarez's manager and trainer, responded to Benavides in a recent interview, criticizing him for his poor resume and stating that Alvarez has no "motivation" to fight him.
"If you look at his track record, you can see that he did not beat any of the serious fighters, the most he did was beat Anthony Dirrell, who for me is a weak and mediocre champion at 76 kg," Reinoso said. "Many people call Benavidez overrated. What motivates us to fight him? He achieved practically nothing. He fights second-rate opponents."
"I'm sorry that everyone says that I haven't fought with anyone, that I have never fought on paid broadcasts, that I am nobody, this and that," Benavidez commented on Reinoso's remarks in an interview with Russ Anber's Calling podcast. "Let them say, but I'm going up the career ladder as a super middleweight champion. I became number one three fights ago. I defeated those I had to defeat. Viewers love to watch me fight, so why not Canelo fight me? I feel it will be a great fight for the fans."
According to Benavidez (25-0, 22 KOs), Alvarez (57-1-2, 39 KOs) has no choice but to fight him if he wants to stay at the super middleweight division. Alvarez himself hinted that in the next fight he would move to heavyweight. Benavidez does not plan to compete in another weight category in the near future.
"They can say what they want, but in the end I'm still winning my fights, I'm still the number one super middleweight champion and the audience will demand this fight," Benavidez said. "They can say whatever they want, but I am here for a long time. If he doesn't fight me now, they will have to face me in the future, because I'm not going anywhere."
Benavidez also has a counterargument to Reinoso about his poor resume: last February, Alvarez fought a not-so-serious opponent Avni Yildirim (24-4, 13 KOs), stopping the Turkish-born in the third round. Benavidez also wants to reclaim the WBC belt. He lost it the first time to a positive cocaine doping test and then lost it again on the scales before his fight with Roamer Angulo in 2020.
Benavidez believes that if Alvarez really doesn't want to give him a fight, the Mexican superstar needs to give up and give up his belts.
"If he's going to stay at the super middleweight title, he should fight with the number one," Benavidez said. "He fought the number one contender when the WBC title was vacant, Yildirim. Yildirim hadn't fought with anyone, and he posed little threat. If he stays at 76 kg, he has to fight me. If he's not going to stay at 76, let him keep the titles vacant."