Arum: "There were no knockdowns in the Fury-Anderson sparring"
Jared Anderson (9-0, 9 KOs) will open the Fury-Wilder III broadcast tonight with a fight that was supposed to have taken place weeks ago. All along, rumors were swirling that the fight had to be canceled due to Anderson allegedly knocking out Tyson Fury (30-0-1, 21 KOs) in sparring.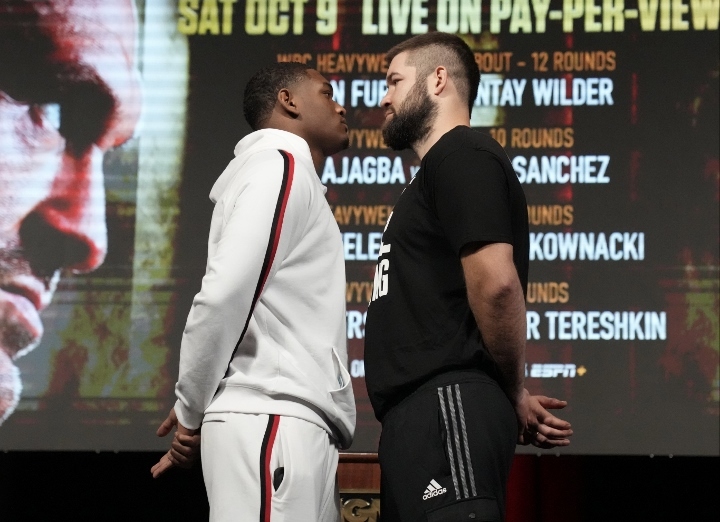 Jared Anderson and Vladimir Tereshkin
Prior to the July deadline, the WBC heavyweight champion was paired with Anderson and the second undercard contestant, Efe Ajagba (15-0, 12 KOs). When it was announced that Fury had tested positive for Covid-19 and the fight had to be postponed, rumors of "failed" sparring emerged. The most common of these were that Anderson allegedly seriously knocked out Fury, but they were never confirmed by Bob Arum, the promoter of both boxers.
"I didn't talk about Tyson sparring with Tyson himself, only with his sparring partners. Among them were Efe Ajagba and Jared Anderson, who will also appear on this evening. Both have told me that Fury is even sharper and better than he was at the previous training camp, as the Sugar Hill coach confirms. Tyson, for his part, confirms that Anderson is a very promising boxer and is a future heavyweight champion of the world, but the information that he was sending Tyson to the ring before this or a possible fight in July is not true," said the Top Rank head.
On Saturday, Fury's opponent will be Deontay Wilder (42-1-1, 41 KOs) and Anderson's talent will be tested by Vladimir Tereshkin (22-0-1, 12 KOs).