Joshua: "Usyk takes risks, for sure, he believes in himself"
Anthony Joshua stated that Wladimir Klitschko communicated with him and wished him good luck in his upcoming fight with Oleksandr Usyk, despite the fact that Usyk has a current contract with the Klitschko promotion.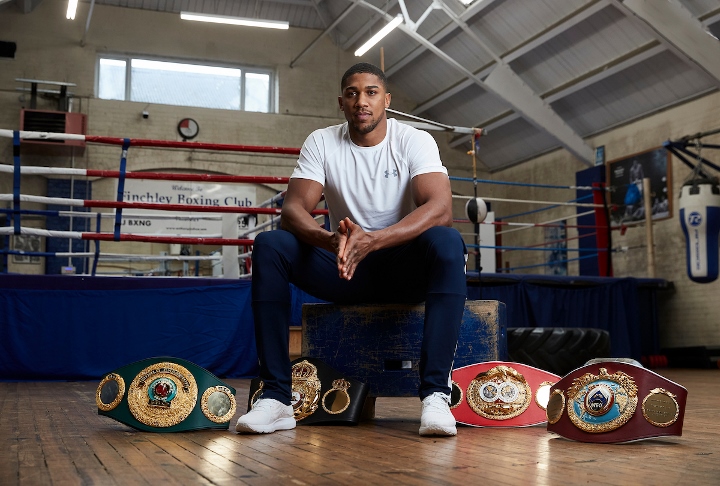 Anthony Joshua
Joshua scored an early victory over Klitschko in a 2017 fight at Wembley, which turned out to be the Ukrainian legend's last fight. Usyk's team director, Sergei Lapin, said Usyk had not spoken to his compatriots Wladimir and Vitali ahead of Saturday's fight for the WBA, WBO and IBF titles, but Joshua, who has been on friendly terms with Wladimir for years, said he had had conversations with Wladimir.
"He was actually very quiet on the eve of this fight," Joshua said. "I spoke to him at the very beginning and he said: "I'm not taking sides, as you know, Usyk is a K2 fighter, but I wish you luck." That's what he said. And that's all I heard from him."
In many ways, defeating Klitschko was a notable part of the promotion on which Joshua's reputation turned out to be built. Since then, Joshua hasn't achieved a record-breaking performance that night, and he may need a win over Tyson Fury to surpass that fight.
"I think it was a great fight," Joshua stated. - It was an essential fight for my career. It was needed at the time, especially at heavyweight, and Wladimir Klitschko needed that fight too. It would have been better for me if it had happened two years later because I would have been more experienced, but I would have been two years late because the champion would have retired."
"Will it work out? We'll see if Usyk wants to go that route. If he wants to, I can get him in trouble, if he can get me in trouble. As you saw in the fight with (Andy) Ruiz, even though it wasn't my night, I kept getting up, just trying to get up and keep going. I always get up and try to keep fighting. I always give the fans spectacular fights."
Usyk is different from most modern super heavyweights. The Ukrainian won Olympic heavyweight gold in London the day before Joshua won heavyweight gold. He's not as small as some people think, he has quick hands and feet. However, his biggest test may be his left-handed stance.
The last lefty Joshua faced was Charles Martin, the man he won his first IBF title from in 2016. Martin was only good enough for two rounds, but Usyk presents a much bigger problem for the champion.
"He's fought a lot of right-handed boxers, but during my left-handed training I learned where my feet should stand, what to control left-handed and what strikes [to throw]," Joshua said.
"Everyone keeps saying that left-handed men have an advantage over right-handed men, and I have to go against that statement and become the right-handed man who beats left-handed men. He's been used to facing the likes of me throughout his career and I've had to prepare for him for the last three months. I'm ready."
Although Usyk briefly competed at heavyweight in the 2013 World Series of Boxing, his victims included Joe Joyce, Junior Fa and two opponents who beat Joshua in the amateurs, Magomedrasul Majidov and Mihai Nistor. Since moving from heavyweight to the pros, Usyk has had two fights, defeating Chazz Witherspoon and Derek Chisora.
"He's performed well at heavyweight," believes Joshua. - The difference is the same as, say, when [Evander] Holyfield moved up to heavyweight. He had six heavyweight fights before he fought for the championship belt. Usyk has faced two heavyweights. He had WSB experience, but yes, the situation is more serious here. Good luck to him. He probably believes in himself."