Hearn: Whyte and Rivas were allowed to fight
On Twitter Eddie Hearn commented on information that doping tests of Dillian Whyte (26-1, 18 KOs) before Saturday fight with Oscar Rivas (26-1, 18 KOs) were tested positive for the banned substances. Comment of the head of Matchroom Boxing, however, is formulated in such a way that it does not directly contradict the articulated information about doping.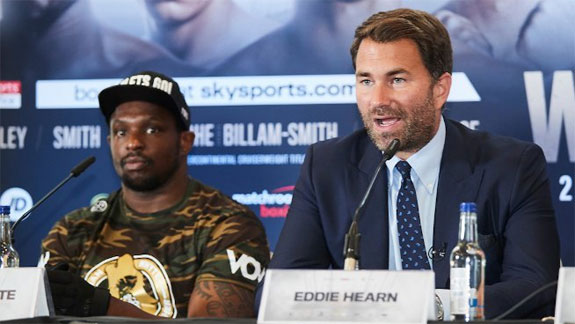 Further to reports I can confirm that both Dillian Whyte and Oscar Rivas were subject to extensive VADA and UKAD testing for their bout. Both fighters were cleared to fight by both bodies and the BBBofC

- Eddie Hearn (@EddieHearn) July 24, 2019
In a brief text of Whyte's promoter, firstly, there is the phrase "further to reports" and not "contrary to reports", and secondly, it should be noted that the entire context of the phrase is not contrary to information on positive doping tests because both according to the information, that doping was detected by UKAD agency only, which informed BBBofC only, and in the absence of an immediate response from BBBofC there would be no problems with the "assumption" that Whyte will fight Rivas because VADA did not know about a positive result.
In addition, Hearn didn't say a word about the reaction of WBC, which sanctioned the fight. Probably, according to the voiced information about doping, of course, if it reflects the facts, the Council headed by Mauricio Sulaiman also did not know anything about this case.