Price to sponsor Mayweather-McGregor $10M
Top sponsorships for the fight between Floyd Mayweather and Conor McGregor have been set, with a $10 million asking price for the title sponsor of the Aug. 26 fight. Talent agency WME-IMG, owners of the UFC, sent out a proposal to companies to gauge their interest in sponsoring elements of the fight, which we have obtained.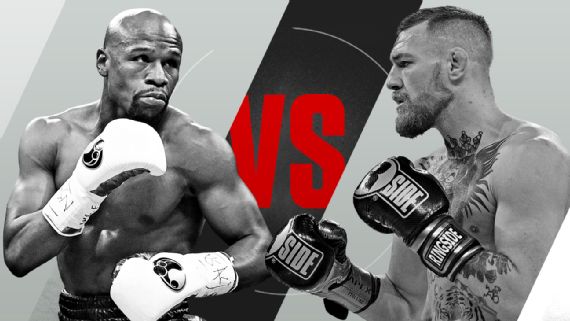 The August fight between Floyd Mayweather and Conor McGregor could attract record sponsorship numbers
The $10 million would nearly double boxing's largest single-fight sponsorship, the $5.6 million that Tecate paid for Mayweather-Pacquiao in May 2015.
The sponsoring company would get its logo at the center of the ring at Las Vegas' T-Mobile Arena, its branding on ring girls, on two of the ropes and in the two nonfighter corners of the ring. The deal also includes sponsorship of the first minute of every round on the broadcast and $500,000 in tickets.
Relative to other ad deals, Goodyear will pay the Cavaliers $7 million to $10 million in each of the next three seasons to have its 2½-inch-by-2½-inch logo patch on the team's jerseys.
A company that wants to be associated with Mayweather or McGregor can buy one of the fighter's corners for $5 million. That would include signage in that corner, sponsorship to the broadcast corner cam and $250,000 in tickets.
If the title sponsorship and the two fighter corners were sold at those prices, the $20 million collected would be the largest sponsorship package for a fight by a wide margin. Five sponsors paid a record $13.2 million to sponsor Mayweather-Pacquiao.
It's unclear whether WME-IMG is the sole seller of the fight's sponsorships. Despite McGregor's appearance, none of the UFC sponsors has any automatic marketing rights to this fight.
As owner of the UFC, in its deal with McGregor, the agency is expected to take in at least 10 percent of the total revenue from the fight, according to a source familiar with the negotiations. Commissions made from selling sponsorship are not included in that projection.
Mayweather comes into the fight with a record of 49-0. McGregor has never boxed in an official capacity.