Kevin Lee beats Michael Chiesa
It was supposed to be a grudge match between two of the most talented lightweights in the world. A victory would push one fighter to the upper echelon of the division. Instead, all most people will be talking about after the UFC Fight Night 112 main event Sunday night in Oklahoma City is a blown call by referee Mario Yamasaki.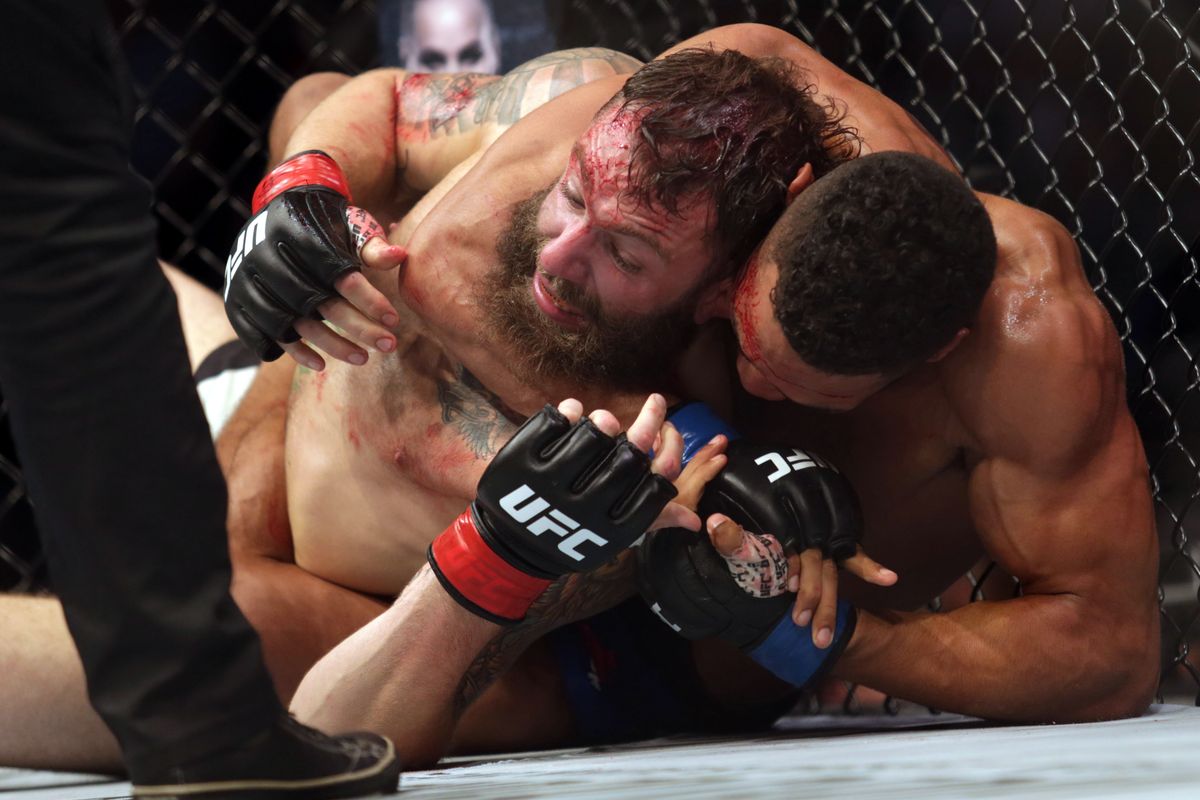 Kevin Lee got past Mike Chiesa, but not without controversy
With the first round winding down, Lee locked in a rear-naked choke on Michael Chiesa. Yamasaki stopped the bout at 4:37, a submission victory over Chiesa. There was only one problem: Chiesa never tapped. He might have been close to going out, but now we'll never know what would have happened if Yamasaki didn't stop the bout prematurely.
"It was coming anyway," Lee said. … "I didn't feel the tap. I never do. I just did what Mario told me."
Chiesa was livid, screaming "I didn't tap!" immediately when it happened, but took the high road in his post-fight comments, challenging Lee to a rematch in December in Lee's hometown of Detroit.
"Kevin, I will see you in December for the rematch," Chiesa said. "Let's keep the hype alive."
Lee and Chiesa exchanged much trash talk heading into this fight and it all climaxed last month when the two came to blows during a press conference. Lee made a comment about Chiesa's mother and Chiesa rushed him on the stage. Lee threw a right hand and security broke them up.
It did well to hype this fight between a pair of excellent 155-pound fighters, but fans didn't get the satisfying win they would have liked. Neither did the athletes.
Lee was surely in control. After slamming Chiesa to the ground, he took his back, landed big punches from back mount and got himself in a strong position for the choke. Lee was on his way to winning the first round easily and maybe Chiesa was going to fall unconscious from the submission, but it's impossible to know for sure. Yamasaki ended it prematurely.
This is the latest in a string of controversial endings involving Yamasaki, most of which are late stoppages. UFC president Dana White blasted Yamasaki for a stoppage last year and the Brazilian ref took heat earlier this month for a late stoppage.
Lee (16-2) has now won five in a row and he called out Khabib Nurmagomedov afterward, for a fight in Detroit. "The Motown Phenom" has been on a roll, finishing his last four fights and could be close to an elusive title shot. Lee is still just 24 years old and looks to be an up-and-coming star.
Chiesa (14-3) came in on a three-fight winning streak. The Washington native had not fought in more than a year, though, since an April 16 win over Beneil Dariush. Chiesa, 29, has an impressive 7-3 record in the UFC and was the winner of The Ultimate Fighter 15.