Mitrione Smashes 'The Last Emperor'
Fedor Emelianenko, 40, had not fought in a year but remains the greatest heavyweight of all-time in the minds of many. However, his co-main event took on a cartoonish quality, not just because of the animated Matt Mitrione but because of what happened when they fired off right hands at each other.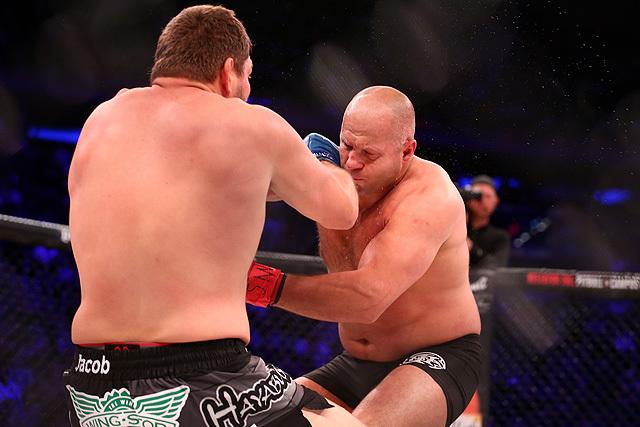 They threw and landed at the same time, creating a rare double knockdown. Both fell to the canvas, the major difference being Mitrione (13-5) got up while Emelianenko was still down. Mitrione jumped on Emelianenko (36-6) and pounced on "The Last Emperor" as he laid supine. The punishing shots forced referee Dan Miragliotta to wave it off at 1:14 of the first round.
"I told my coaches and trainer all week this was going to be just like when I knocked out Derrick Lewis," Mitrione said. "I felt it. I knew it was going to happen. He's so freaking smart. He was watching my hips and he saw my feet, and that's when I thought about switching things up on him and try to confuse him. I didn't know when he engaged and I engaged that we would knock each other down at the same time. I saw him on his back and I jumped on him. That's what it was.
"That dude has crazy-high fight IQ," he added. "I could literally see him calculating my every move in there; just watching his eyes calculating is crazy. He's the greatest to ever do it and just having the opportunity to step in there and trade blows with him is crazy. I'm very fortunate, but at the same time, I think I made the most of that opportunity. I'm just still in awe of Fedor's cage intelligence -- amazing."