Promoter Eddie Hearn fears that Deontay Wilder will reject offer of Dillian Whyte fight
Deontay Wilder could make the next defence of his WBC title in September or October, but promoter Eddie Hearn fears he will reject the offer of a Dillian Whyte fight. The unbeaten American heavyweight is yet to announce his next opponent and Hearn has tried to set up a world title defence against Whyte, who is due to make his US debut this summer.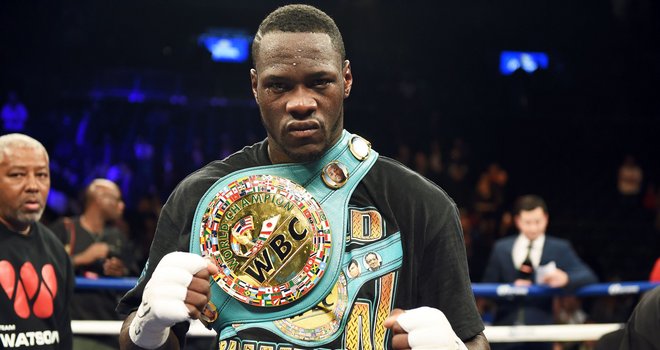 Deontay Wilder
But Wilder seems to have rejected the deal in an expletive-laden rant on social media. "I've made several offers to Al Haymon's team and we are awaiting a final answer, but I think Deontay made things clear on his Instagram," Hearn told. "It's a great offer and a great career move - a chance to earn plenty of money but also be involved in a real fight and IF he is good enough to win then it sets up a massive fight between Anthony Joshua and Deontay Wilder.
"What I'm seeing from these camps is a reluctance to face Dillian. They know he is a handful and it's more than likely you are going to have a roll around at the press conference as well.
"Let's hope we can all be sensible and give the fans what they want - real heavyweight match-ups."
Promoter Lou DiBella, who works closely with Wilder, pointed out that the 'Bronze Bomber' still has to fulfil a mandatory title defence against Bermane Stiverne.
"His immediate priority is to get the biggest fight he can get, but the Bermane Stiverne fight is a reality we have to deal with," DiBella told. "He is still technically the WBC mandatory and we are the WBC champion."
Asked about Wilder's future plans, DiBella added: "I think Deontay is ready to return shortly. He would like to get into the ring.
"At this point - this is now the middle of June - probably September-October. I think he would like to return as soon as the opponent situation and who he is fighting is determined, and the network date has been settled."