Nationality:

Born:

June 8, 1979 (43 years)
Record:

0-0

BoxRec ID:

596434
Managing director of Matchroom Sport.
Next fight of Eddie Hearn is not determined yet.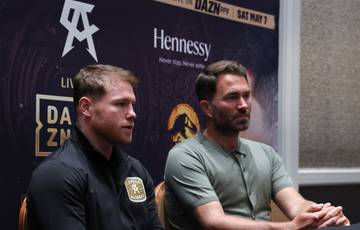 Nov. 29, 2022, 12:05 p.m.
In a few days, negotiations should begin on organizing a fight between the undisputed middleweight champion Saul Alvarez (58-2-2, 39 KOs) and John Ryder (32-5, 18 KOs). The fight is tentatively scheduled for May 6 in London.
---
EDDIE HEARN PROFILE WHAT IS EDDIE HEARN'S RECORD?
Eddie Hearn's record currently stands at 0 win, 0 lose and 0 draw.
WHERE IS EDDIE HEARN FROM?
Hearn was born in United Kingdom.
HOW OLD IS EDDIE HEARN?
The Eddie Hearn is currently 43 years old. He was born on June 8, 1979, so he will turn 44 in 3 months and 30 days.
WHAT WILL BE EDDIE HEARN'S NEXT FIGHT?
Eddie Hearn doesn't currently have a fight scheduled