Nationality:

Born:

Oct. 6, 1987 (36 years)

Height:

6′0″ / 185 cm
Record:

13-1, 12 КО

Division:

Cruiserweight (200 lbs)

Debut:

Nov. 21, 2015

BoxRec ID:

738345
Next fight of Aleksei Papin is not determined yet.
Date
Participant
Record
Results
Date
Participant
Record
Results
Boxing News: Aleksei Papin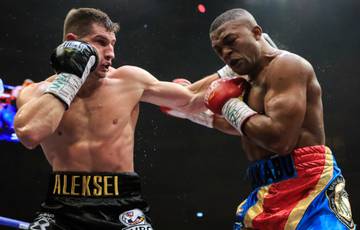 May 13, 2021, 11:10 a.m.
On September 3, in Kinshasa, Congo, the WBC cruiserweight champion Ilunga Makabu (28-2, 25 KOs) will give rematch to Alexei Papin (13-1, 12 KOs). The date of purse bids was set for May 11, but it seems that the parties have come to an agreement on this fight.
---
ALEKSEI PAPIN PROFILE WHAT IS ALEKSEI PAPIN'S RECORD?
Aleksei Papin's record currently stands at 13 wins, 1 lose and 0 draw.
WHAT WAS PAPIN'S LAST FIGHT?
Aleksei Papin's last fight took place against Dilan Prasovic on May 27, 2022, in Omsk, Russia. He won by TKO in the 2 round. That fight was 6 months and 9 days ago.
HOW ACTIVE IS ALEKSEI PAPIN?
Papin's last 3 fights have come over a period of 2 years, 9 months and 3 days, meaning he has been fighting on average every 10 months and 30 days. In those fights, he fought a total of 20 rounds, meaning that they have lasted 6 rounds on average.
HOW OLD IS ALEKSEI PAPIN?
The Aleksei Papin is currently 36 years old. He was born on Oct. 6, 1987, so he will turn 37 in 10 months and 0 day.
HOW LONG HAS PAPIN BEEN FIGHTING?
Aleksei Papin made his professional debut in November 2015, so he has been a pro for 8 years.
HOW TALL IS ALEKSEI PAPIN?
Papin is 6' 0" (6 Foot and 0 inch) which is 185 cm (1 meter and 85 centimeters).
WHAT STANCE DOES ALEKSEI PAPIN USE?
Papin fights from a orthodox, which means he favours his right hand as his power hand when fighting.
WHAT WILL BE ALEKSEI PAPIN'S NEXT FIGHT?
Aleksei Papin doesn't currently have a fight scheduled
ALEKSEI PAPIN'S SOCIAL PROFILES