Hearn on changes in Joshua's team: "Nothing drastic will happen"
Eddie Hearn believes that the rumors about his boxer Anthony Joshua and upcoming major changes in its coal are exaggerated. Former unified world heavyweight champion after losing on points Oleksandr Usyk last September was allegedly looking for mentors to help him make the necessary adjustments ahead of a rematch that could reportedly take place in the spring in England.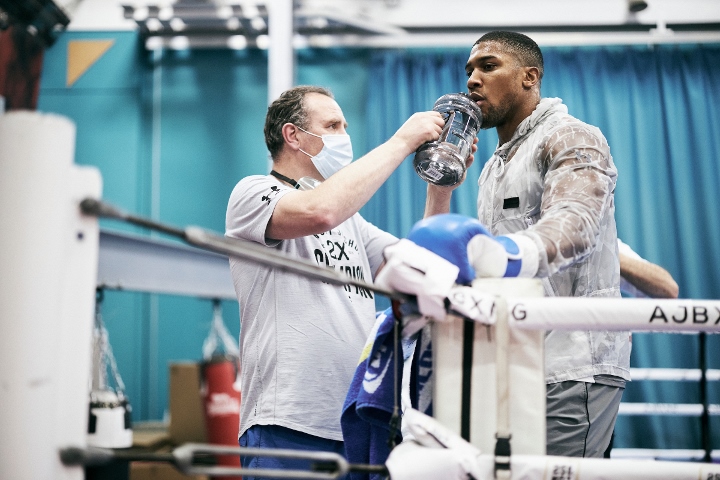 Anthony Joshua with his trainer Robert McCracken
Last fall, Joshua was spotted traveling across the United States meeting with veteran coaches such as Robert Garcia, Ronnie Shields, Virgil Hunter and Eddie Reynoso, and many were under the impression that Joshua would leave his longtime coach Robert McCracken, who has guided Joshua's career from amateur days, and who was heavily criticized for his less than effective boxing instruction against Usyk. Some suggest that McCracken will remain with the team, but no longer as head coach.
Whatever happens, Hearn believes that the changes that Joshua (24-2, 22 KOs) will make to his environment will not be as drastic as some believe.
"AJ is, first of all, a very dedicated person," Hearn told BBC 5 Live Boxing. - And, secondly, he has great respect for the people who have helped him on this path so far. AJ's team will definitely have a large number of people who were there before. I don't see the point in getting rid of everyone. I just see it as small adjustments to make sure he does everything right."
This is not the first time the 32-year-old Joshua has been asked to make changes to his fighting style. He went through a similar period after losing to Andy Ruiz in New York in 2019. Joshua took revenge six months later in Saudi Arabia.
"Of course he's made adjustments in the past for a rematch with Andy Ruiz," Hearn added. "Now he just feels like he needs to develop further."
Ironically, the same approach he took in his rematch with Ruiz, according to many critics, led to his loss against the technical Usyk, the former undisputed cruiserweight champion.
"The real work with the new team will start in February," Hearn said. - I am sure that he will make a statement about who will be in this team. There will be changes. He brought people. For the past couple of months, he has been hard at work on what this camp will look like, and, of course, on the people in this camp. He knows he has to do things right. He did the work behind the scenes to make sure he was creating the right environment, the right team, that would lead him to victory over Oleksandr Usyk."