Arum: "What is Wilder babbling about? Fury's Covid was diagnosed by the commission's doctor"
Bob Arum is confused by Deontay Wilder's claim that Tyson Fury has not actually contracted COVID-19. Fury's illness caused the postponement of their third WBC heavyweight title fight from July 24 to October 9. During an appearance last week on the PBC Podcast, Wilder said he believes Fury faked his COVID diagnosis because he was having trouble during training camp with younger sparring partners.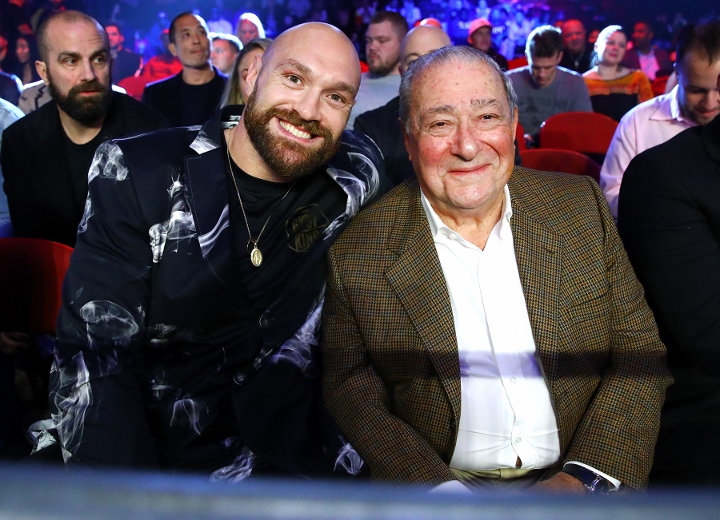 Tyson Fury and Bob Arum
Arum, whose company handles Fury's affairs, suggested Wilder contact the Nevada State Athletic Commission to check on Fury's fight against the coronavirus. The 89-year-old promoter confirmed that Fury's team provided evidence to Wilder's team that Fury did indeed test positive for COVID-19.
"I don't know what [Wilder] believes or what he doesn't believe," Arum told BoxingScene.com. - But he should at least look into the fact that as soon as Fury got COVID, he immediately contacted the commission, or someone did, and the commission doctors examined him and diagnosed him with COVID. So what the hell is Wilder babbling about? I mean, it's not as if the fighter came out and said: "I need a reprieve because I sprained my leg during a run." Then there's always questions. "Is he really injured?" Blah, blah, blah."
"But here it's something that could very well be verified by the commission. So why should Wilder believe me? He shouldn't. Why should he believe Fury? If he doesn't want to, he shouldn't. But consult the commission, which has no reason to lie," Arum added.
Fury returned to his home country of England after their main event on ESPN and FOX Sports in early July was postponed. He has been training at home since August, but will soon return to the United States to complete a training camp at Top Rank in Las Vegas.
The 32-year-old Fury (30-0-1, 21 KOs) is considered a 3-to-1 favorite to beat Wilder again. Fury sent Wilder to the ring floor twice, once each in the third and fifth rounds, until he achieved an early seventh-round stoppage in a rematch 18 months ago at the MGM Grand Garden Arena in Las Vegas.
The 35-year-old Wilder (42-1-1, 41 KOs) switched head coaches from Jay Dees to former rival Malik Scott after his first professional loss. The Tuscaloosa, Alabama native praised Scott's work and is confident he will take the rematch in their third fight. The 2008 Olympic bronze medalist believes Fury's lack of confidence is the reason his opponent legitimately demanded a postponement of their third fight.
"I can't control what they do on their side," Wilder told Kenneth Buhairi and Michael Rosenthal, co-hosts of the PBC Podcast, in an episode that aired last week on Premierboxingchampions.com. - I can't control whether it's false or true. Because I don't believe any of it, none of what they've done. Since July he tried to run away from me, he paid hundreds of thousands of dollars not to fight me. You can't trust this man. He's trying to run away from me, so I'm running to him. And I don't believe a word he says. You know, and frankly, I don't believe he didn't have COVID. Look at his behavior. Look at what he's done. He's been in different places and things like that. He definitely wasn't acting like a coronavirus patient."