Bellator 257: Nemkov vs Davis II. Where to watch live
On April 17 in Uncasville, USA, Bellator 257 will take place, in the main event of which the light heavyweight champion Vadim Nemkov will make his first title defense against Phil Davis. This fight is also will be a quarterfinal of the Bellator Grand Prix series.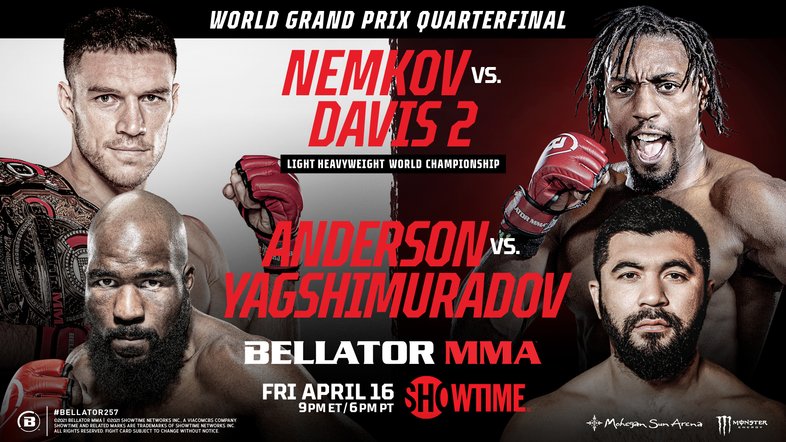 Poster: Bellator
The meeting of Nemkov and Davis will be a rematch of their first fight - in November 2018, the Russian won by a split decision.
In the co-main event of the tournament, ex-ACA champion Dovletdzhan Yagshimuradov and former UFC fighter Corey Anderson will battle for another ticket to the Grand Prix semifinals.
The beginning of the preliminary fights is at 6 pm ET. The main card starts at 9 pm.
The live broadcast of the tournament will be available on the Okko Sport platform.
Main card:
Vadim Nemkov - Phil Davis
Corey Anderson - Dovletjan Yagshimuradov
Paul Daly - Sabah Homasi
Vita Arteaga - Desiree Janis
Preliminary card:
Julius Englikas - Gregory Millard
Julia Badd - Diana Silva
Carl Albrektsson - Viktor Nemkov
Pedro Carvalho - JJ Wilson
Mads Burnell - Sol Rogers
John De Jesus - Alfred Khashakyan
Sean Escher - Steve Moury
Grachik Bozinyan - Demarkus Jackson
Lance Gibson Jr. - Marcus Surin