Usyk's promoter demands step aside money
Alexander Usyk (18-0, 13 KOs) counted on a fight for the WBO heavyweight belt with Anthony Joshua (24-1, 21 KOs), but then there were talks that he could give the green light to AJ's duel with Tyson Fury (30-0-1, 21 KOs), for a while, giving up the chance for a championship in exchange for a certain amount of money. Now everything goes to the fact that the Ukrainian can get, at least for now, a title fight for the interim title with  Joe Joyce (12-0, 11 KOs), without additional reward.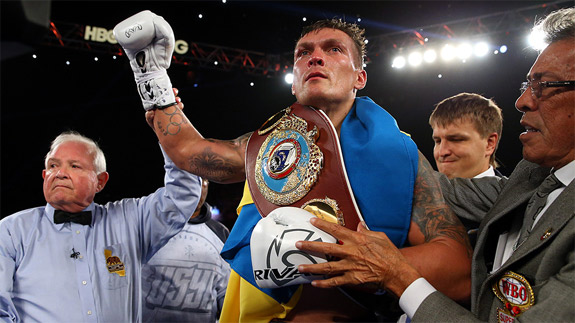 Oleksandr Usyk
According to recent reports, the WBO wants to allow Joshua to fight Fury for the belt, at the same time organizing a confrontation of Usyk and Joyce, on the condition that the holder of the "full-fledged" title within 180 days from the date of Usyk vs Joyce fight will necessarily defend with the best in the Ukrainian-British confrontation. In this situation, Usyk's promoter Alexander Krasyuk asks WBO to respect previous agreements, and to the promoters Fury and Joshua to generously compensate his boxer.
"We got a message from WBO that they are considering sanctioning AJ versus Fury, but no one offered Usyk a payoff. We learned about all this from the media," Krasyuk complains. "I am convinced that WBO and President Paco Valcarcel will never violate the rules of their organization and do not sanction a big fight without Usyk's consent."
"Now is the best time for the promoters of the Joshua-Fury fight to make Usyk a serious offer so that he allowed the fight for the WBO belt and received the right to fight for the interim title," added the Ukrainian promoter.