Warren gets criticized for Dubois vs Joyce
Eddie Hearn criticized Frank Warren for the way he builds the career of Daniel Dubois (15-1, 14 KOs). The 23-year-old, still ranked second in the WBO heavyweight title, lost on Saturday to Joe Joyce (12-0, 11 KOs) with a serious eye injury. According to Hearn, Dynamite was not ready for such a serious test as a duel with an undefeated Olympic medalist.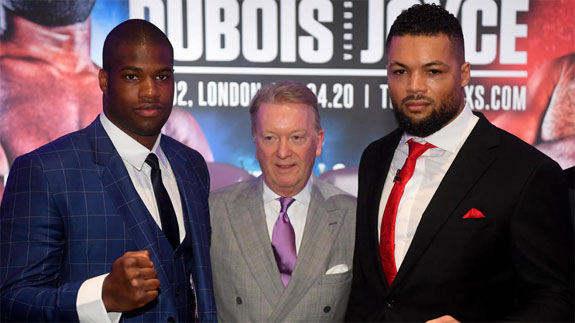 Danielle Dubois, Frank Warren, and Joe Joyce
"I think it will be difficult for Dubois to return. In my opinion, they were too hasty, they chose his opponents poorly. He did not have any intermediate fights, he jumped from the champion level of England right to the world top 15," Hearn said.
The head of Matchroom Boxing also suggested that Dynamite had no orbital bone fracture in his duel against Joyce, because his team never submitted a copy of the X-ray of the boxer's skull.
Frank Warren reacted sharply to the words of his competitor: "Nobody will show copies to Hearn. We will send the documents to the sports commission," Warren said in an interview to IFL TV.
"And this is what the one who let Brook under Golovkin tells me! It is disgusting that he is now saying such things," Warren said.
Meanwhile, Dubois himself made the following statement today: "Thanks to everyone who sent me words of support over the weekend. Respect for Joe Joyce - he boxed well and won honestly. I thought I was fighting, I tried to fight the injury, but I failed. I have already been discharged from the hospital, and now I will wait until the fracture heals. I'll come back and prove that my critics were wrong and my fans were right. "