Harper and Jonas battle to a draw
Terry Harper (10-0-1, 5 KOs) drew Natasha Jonas (9-1-1, 7 KOs) in the main bout of the evening at Fight Camp 2 in Brentwood, thus defending her WBC super featherweight belt.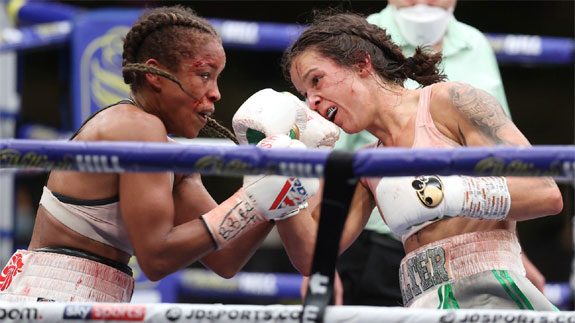 Terry Harper vs Natasha Jonas
The duel of the two British women turned out to be an excellent demonstration of women's boxing, it was full of strong punches and double-edged attacks. Favorite Harper tried to put pressure on her opponent, but Jonas defended well and several times was able to noticeably hur the champion. After the final bell, one referee gave his preference to Harper 96-94, another favoured Jonas 96-95 and the third saw the fight as even 95-95.
Given the course and outcome of the fight, it is highly likely that Harper and Jonas will now have a rematch - such a decision was suggested by the promoter of the evening, Eddie Hearn.